Pores: Can't live with 'em, literally can't live without 'em. Even though I curse their existence, I understand they have an important role in keeping my skin naturally lubricated and moisturized blah blah blah—but am I so wrong in wishing that they could do their thing a little more discreetly? Am I stuck with these large pores forever?! I turned to dermatologist Shari Marchbein MD, to find out which pore minimizers work and if it's even possible to achieve my dream of having small pores.
"Pores are the visible opening of the hair follicle and it's connected oil gland, and their size is genetically determined," says Dr. Marchbein. Their size is wholly determined by genetics, but they can look larger if the collagen around them weakens (from, say, age, sun exposure, or skin trauma) or if they become clogged (hi, blackheads) with dirt, oil, and bacteria.
And although you can't actually get rid of your pores (remember, you can't live without them) or permanently change their size (you'd need a new set of DNA for that), you can minimize their appearance to a degree with certain at-home products and in-office procedures. Keeping scrolling for 11 best ways to make your pores appear smaller as well as the best pore-minimizing products and treatments to try.
How to Get Small Pores Tip #1: Exfoliate Regularly
Exfoliating can help remove pore-clogging dead cells and excess oil from the skin's surface. Look for a toner, serum, peel, or mask containing chemical exfoliants (they're gentler than scrubs), with AHAs (like glycolic, lactic, or mandelic acid) or BHAs like salicylic acid. But here's the catch: because your pores will eventually fill back up with dead skin cells, you've got to use your exfoliator of choice on a regular basis for the best pore minimizing results. "People with oily or combination skin can typically exfoliate up to three times weekly, where those with sensitive skin should aim for once weekly," says Dr. Marchbein.
4 Exfoliating Products to Try at Home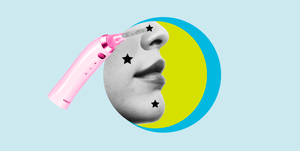 Source: Read Full Article