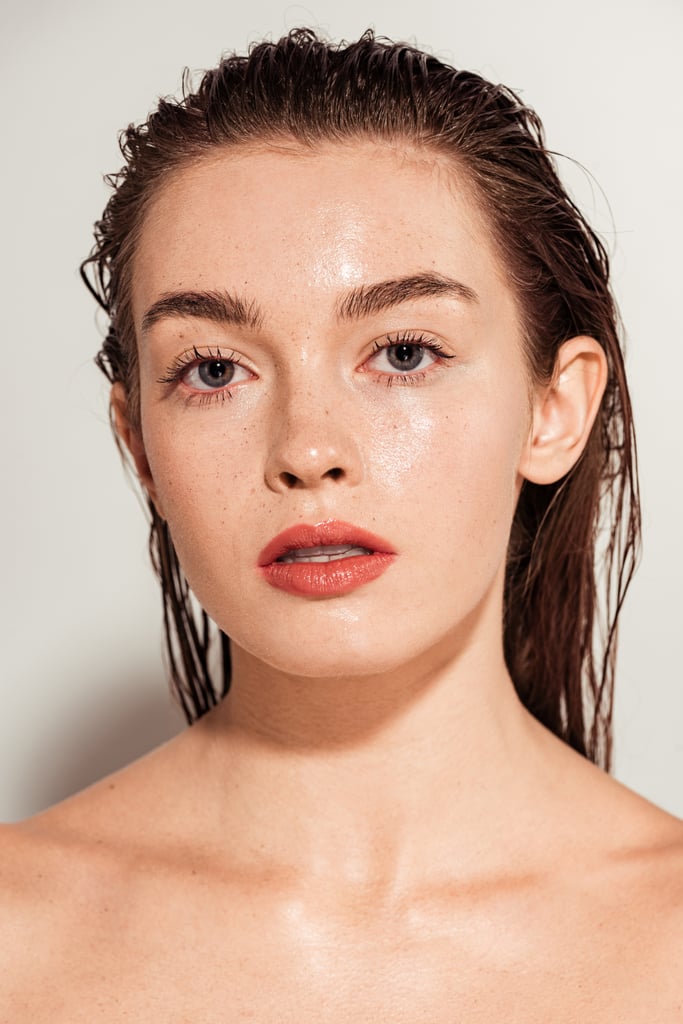 How to Pull Off Glossy Makeup For a Hailey Bieber-Inspired Look

Glossy makeup has been popularized by celebrities like Hailey Bieber and Zendaya.
The look is defined by a healthy shine that seems almost wet.
Keep reading for the tools and inspo you need to pull off glossy makeup.
Sure, we all love dewy makeup and skincare, and are always looking for a nice glow. However, if you want to up the ante a bit and try out a more high-shine look, the trending glossy makeup look is for you. "We've been accustomed to seeing a glow that's created with shimmery highlighting products to create light reflection on the face," makeup artist Troy Surratt tells POPSUGAR. "But this look creates light reflection using humectant, dewy, moist products."
So, what does a glossy makeup look entail? "Brushed up brows, moist eyelids, and glossy lips," says Surrat. "It's high impact with very little effort kind of look." It's more about hits of luminosity all over the face — skin, lips, and eyes — applied in a laid-back way that feels fresh and sexy. Think: Hailey Bieber and her love of "glazed donut" skin.
The good news is that achieving a glossy makeup look is pretty simple. Ahead, Surratt breaks it down — you'll be glazed like Hailey in no time.
Tools You'll Need For a Glossy Makeup Look
Skin serum and moisturizer: You can always count on the one-two punch of a serum and rich cream to revitalize skin. And the more hydrated your complexion is, the less product you'll need to get that glossy look.
Shine balm: There are a bunch of new balms on the market to help you focus your radiance right where you want it.
Petrolatum: It's always good to have a multitasking oldie-but-goodie like Vaseline on hand which can work to add shine to eyes, skin, and lips.
Shadow: Pick a creamy, glossy formula in an earthy hue.
Lip gloss: Apply a clear gloss over your fave lipstick or choose a translucent lip gloss in a shade that gives lips some natural color but isn't overly striking (like red).
How to Do a Glossy Makeup Look, Step By Step
Step one: prep your skin. Every makeup look starts with the same pivotal step: priming skin. So often we're chasing down shine, trying to mute its brilliance. But for this look shine is the name of the game. "Skin should look like you've just walked out of having a facial with an amazing esthetician," says Surratt. Start with a serum that's specially formulated to give a glass-like finish then add a rich cream to bring out skin's natural highlights.
Step two: apply balm. You'll want to add extra gloss to skin with a balmy product applied anywhere you want to emphasize a glow, like along the cheekbones. "It's not strategic," says Surratt. "With this glossy makeup look, it really is about just creating this overall glowy skin." If you use a stick formula, just glide it right on. If you're going with something in a pot or tube, simply use your fingertips to apply.
Step three: add shine to eyes and lips. There are a few ways you can go to gloss up eyes. You could skip shadow and apply a petrolatum-based product like Vaseline to lids. If you want a touch of color, you could apply a luminous shadow formula (or mix your fave neutral shadow with Vaseline on the back of your hand) to lids, just know it requires a little maintenance. "You may have to touch up or tap your lids with your fingertips from time to time to keep it from settling," says Surratt. Another way to add shine is to apply your glossy formula just to browbones as a highlight. In all cases, wearing mascara can be tricky — if it meets your gloss, there could be some messy transfer. If mascara's a must, stick to a waterproof formula. For lips, simply swipe on your gloss, and you're good to go. "It's a less serious, more carefree approach to lip gloss," says Surratt. "You almost don't even a mirror — that's part of the appeal."
Best Glossy Makeup Looks
Source: Read Full Article