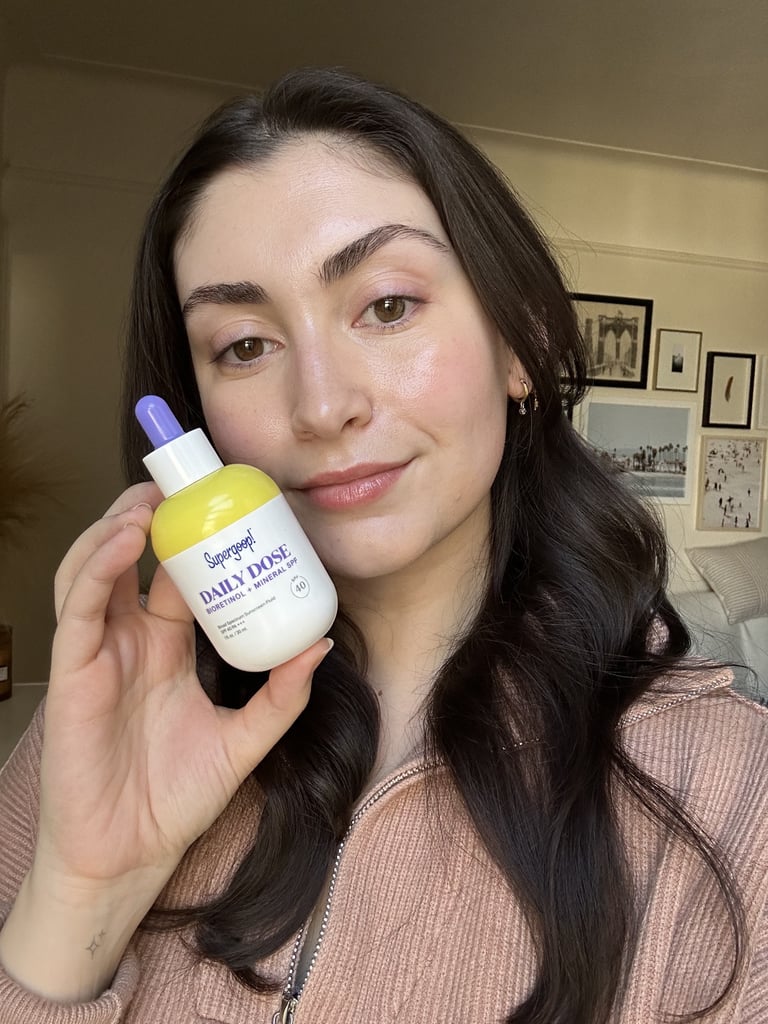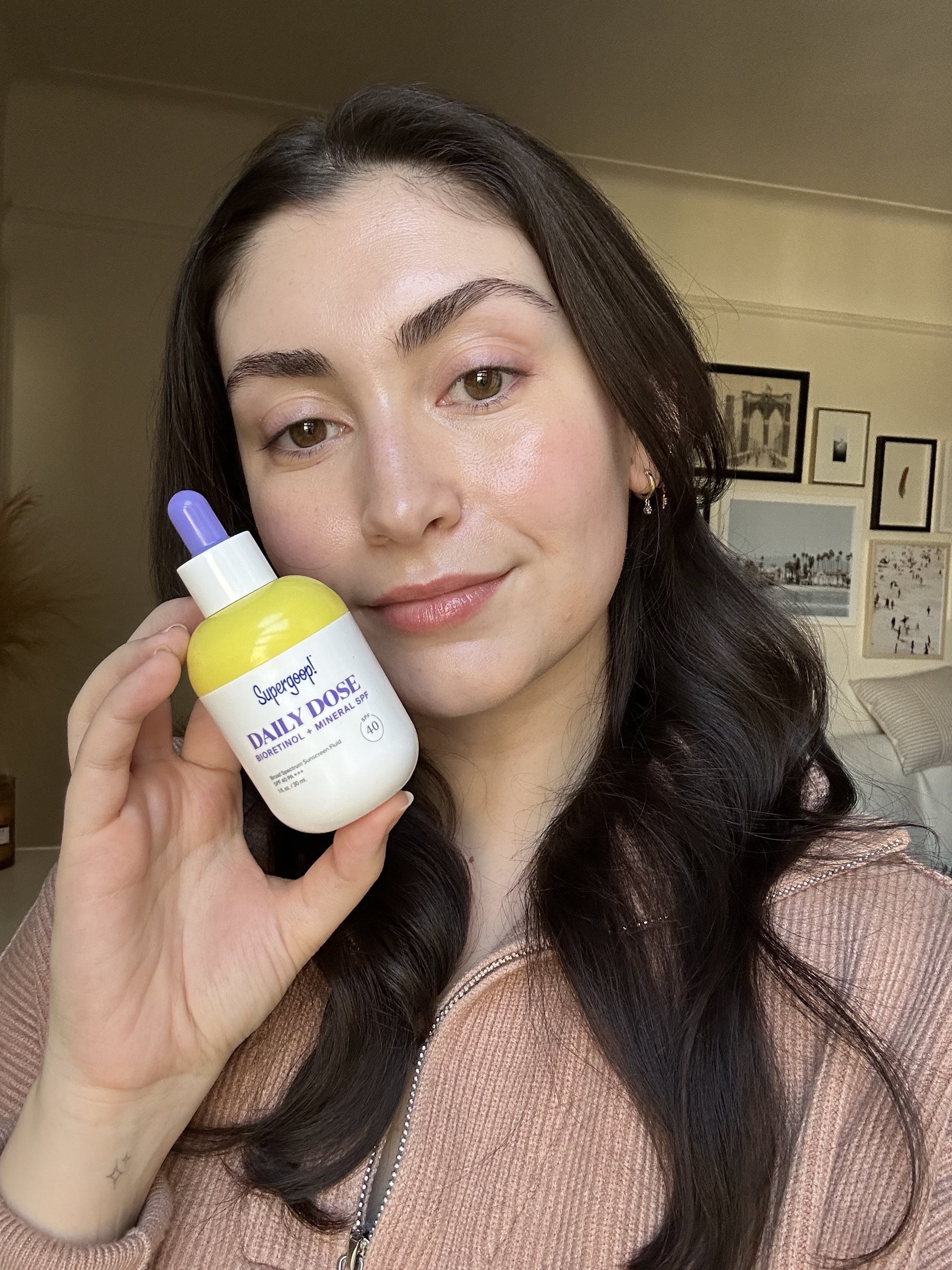 Supergoop added a new product to its Daily Dose franchise: Daily Dose Bioretinol + Mineral SPF 40.
The product combines mineral SPF 40 with bakuchiol.
It protects against the sun and targets dullness and uneven skin tone.
I'm a big advocate for wearing sunscreen every. damn. day., but I will also be the first to admit that some formulas simply aren't enjoyable to apply. The sweet spot is finding an SPF that protects your skin and is something you look forward to putting on, and the new Supergoop Daily Dose Bioretinol + Mineral SPF 40 ($46) hits that mark for me.
You're probably well aware of the brand Supergoop and at least one of its many sunscreen formulas. (A couple of my personal favorites are the Glowscreen and Every Single Face Watery Lotion.) The brand's new addition to the Daily Dose line features bioretinol to not only protect your skin from the sun, but also improve your skin while you wear it. After trying it for the first time, I became an immediate fan. Keep reading to find out why.
About the Supergoop Daily Dose Bioretinol + Mineral SPF 40
It contains mineral SPF 40 and a plant-based retinol called bakuchiol.
The active ingredients not only protect from sun damage but also target dullness and uneven skin tone.
It has a light, subtle tint to it that seamlessly blends into all skin tones.
The formula is vegan and cruelty-free.
It's suitable for all skin types.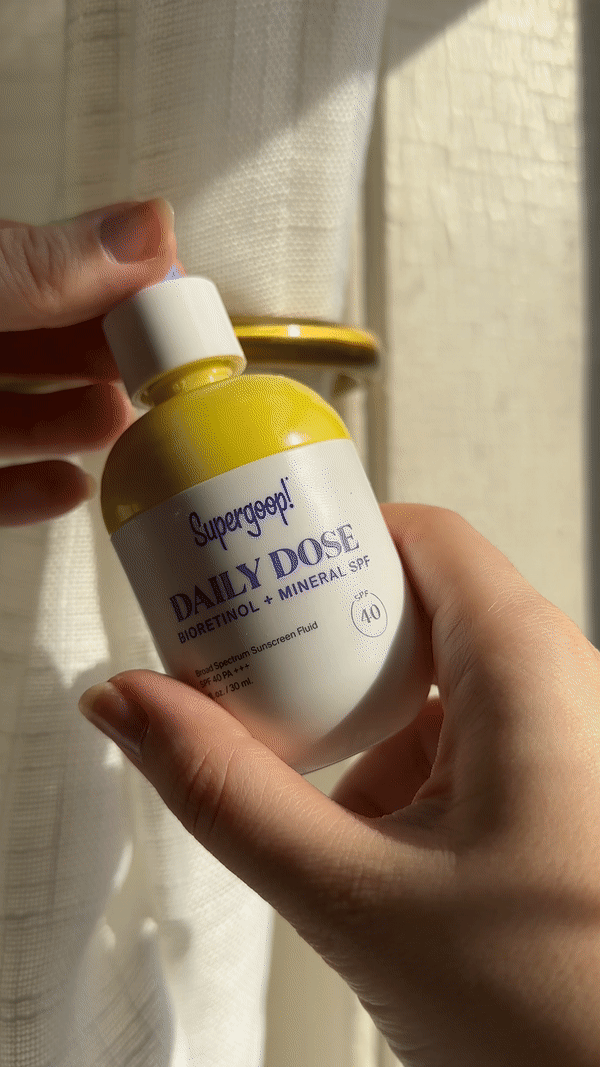 What I Like About the Supergoop Daily Dose Bioretinol + Mineral SPF 40
Though I used to subscribe to a 10-step skin-care routine, now my regimen is pretty simple. With that in mind, I love multitasking products. The Supergoop Daily Dose Bioretinol + Mineral SPF 40 is a perfect example of that. First and foremost, it gives me sun protection in the morning from harmful UVA/UVB rays, which is your greatest defense against signs of aging and skin cancer. But that's only the beginning.
Bakuchiol, a plant-based bioretinol, addresses dullness and uneven skin tone just like a serum does. Whereas retinoids aren't traditionally mixed with SPF because they make your skin more sensitive to the sun and therefore should only be used at night, bakuchiol doesn't do that to you. It's much gentler, making it suitable for all skin types.
What's also amazing about this new Daily Dose formula is the inclusion of English-oak bark extract, which provides antioxidants to fight free radicals from the sun and other external aggressors while giving the product a naturally occurring beige tint. This tint makes the SPF really easy to apply and blend into my skin. The formula leaves behind a glowy sheen that feels lightweight and hydrating.
How to Use Supergoop Daily Dose Bioretinol + Mineral SPF 40
After applying my vitamin C serum, eye cream, and moisturizer, I use one-and-a-half droppers full for my entire face and neck. It rubs in with minimal effort and layers beautifully over my other skin-care products. I have normal-to-dry skin, so I like to layer it over a moisturizer, but occasionally I can wear it alone because the formula is very hydrating.
This SPF also wears incredibly well under makeup, and the tint allows me to just use a bit of concealer under my eyes and to spot correct.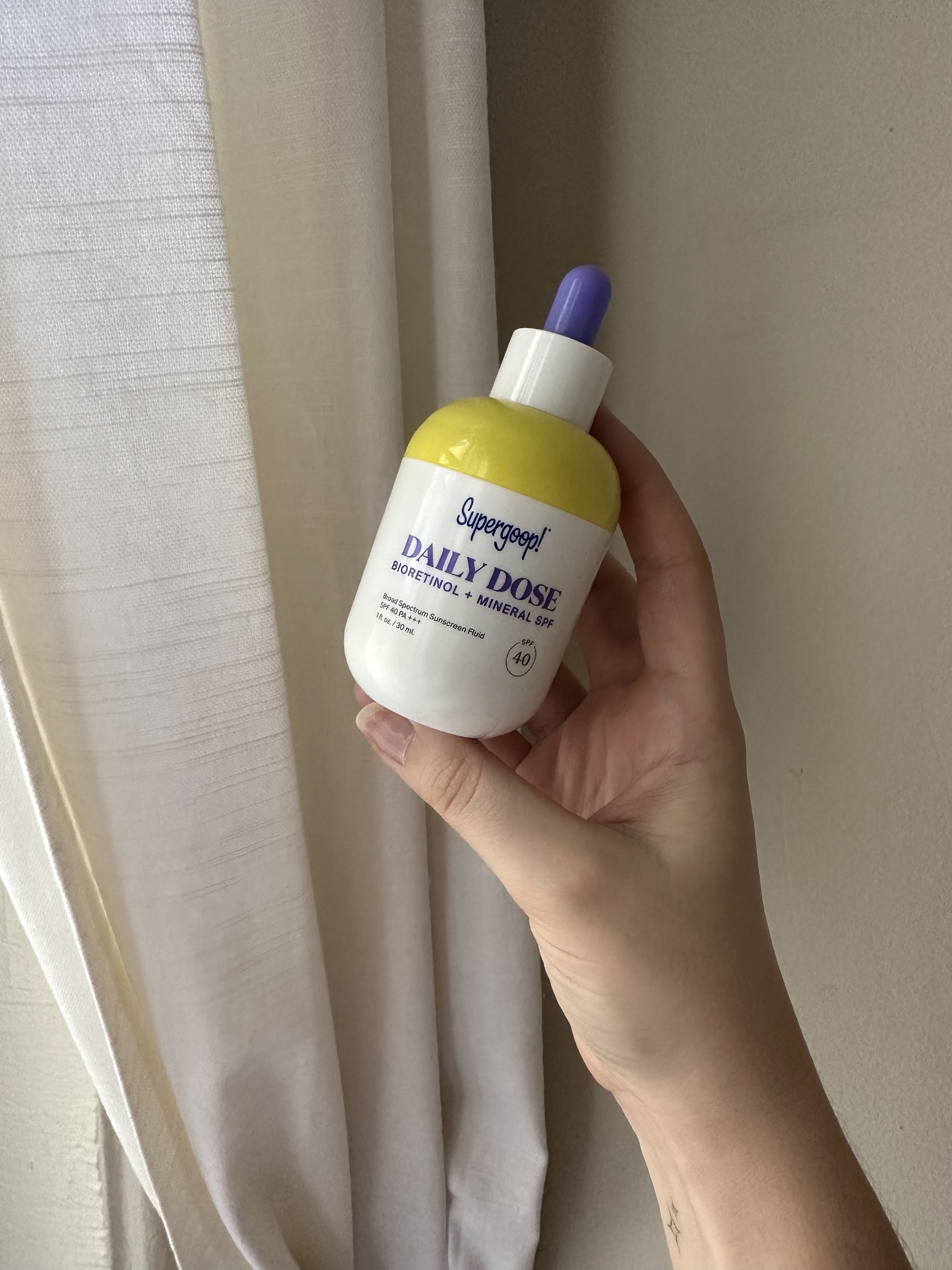 What to Consider Before Trying the Supergoop Daily Dose Bioretinol + Mineral SPF 40
This new Supergoop sunscreen costs $46, which is on par with the rest of the products in the brand's lineup. In my opinion, it's worth the cost because a little bit goes a long way.
It is worth noting that I prefer this SPF for days when I'm getting minimal sun, like in the winter, rainy days, and when I'm working from home. In the summertime, when I'm outdoors more, or when the UV index is high, I like to use one of the brand's other formulas with a higher SPF protection, without bakuchiol.
Rating: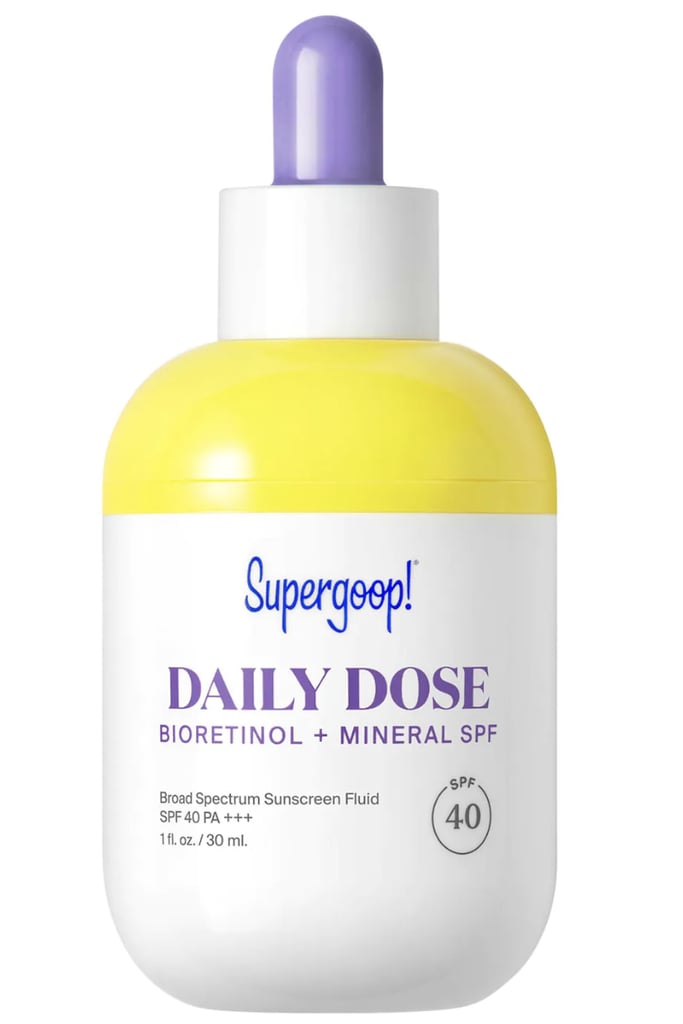 Source: Read Full Article