We won't be the first to say that YSL Beauty and Zoë Kravitz are a match made in heaven—but we will be the first to recommend the actress's new lipstick collection. After all, what better way to celebrate closing the book on 2020 than with eight limited-edition lip colors inspired by the cities Kravitz loves? (That's a rhetorical question, by the way.)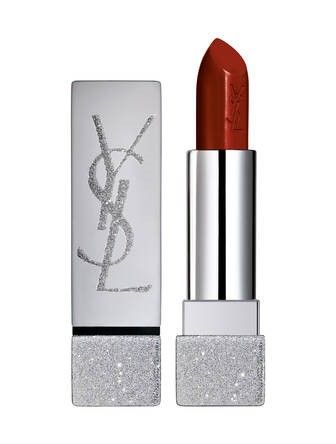 The YSL Beauté Makeup and Fragrance Ambassador's Rouge Pur Couture collection is now available on YSLBeautyUS.com, where all of the $38 shades are currently still in stock. Named after and influenced by London, Paris, New York City, and Los Angeles, the satiny shade range offers up new takes on the quintessential YSL reds, packaged in glitzy tubes that resemble skyscrapers. In a world without travel, globally-inspired lipstick shades will beautifully fill the void (for now).
It's the little details behind the names that make this collection truly special, though. There are glimpses into the geographical inspiration behind the colors on the house's website, like the chili-red Lost In Marais inspired by where Kravitz was married, or the nude Shoreditch Walk, named after where she "shot her latest movie." A collector's item for The Batman that not even we saw coming.
Keep on reading for an even more intimate look into the collection. Below, a conversation between YSL Beauty and Zoë Kravitz on the inspiration behind the new collection, advice for 2021, and the actor's makeup style, exclusively for BAZAAR.com.
This is your second makeup collection for YSL Beauty, what does this achievement mean to you?
Zoë Kravitz: I have always enjoyed my working relationships with YSL Beauty. I love the values that exist within the heritage of the brand, the many layers of stories within it, the aesthetic… and to be able to have the freedom to create within this world? It was incredible. And now we're back with a second collection! And it just feels phenomenal to be able to continue the story, to develop what we did with Rouge Pur Couture lipstick and take it to the next level.
What is new about the second collection?
Kravitz: So we're still focused on the Rouge Pur Couture, because as you know, it's a lipstick that I love, and something of an icon. But whereas before it was about the names of people who were dear to me, now it's about the cities that have inspired me. I wanted to bring everyone on a journey that would show you the key places in my life.
https://www.instagram.com/p/CJEsEblJlry/?utm_source=ig_embed&utm_campaign=loading
A post shared by Zoë Kravitz (@zoeisabellakravitz)
Could you tell us one special memory about each city?
Kravitz: Definitely! London… Well, it's a place I never thought I would spend a lot of time, but work has brought me there a lot and I've made so many great friends there. I've fallen in love with Hampstead Heath and love getting out to the English countryside when I have a chance. Paris, oh, so special! I've spent a lot of time there ever since I was a kid and have had some really beautiful times there with close friends and family. I've also danced my heart out in Paris! Los Angeles—it's where I grew up, so I will always be connected to it. I love the nature of this place. It's like a million cities in one. New York is my favorite place! I've lived there for over 15 years. Every time I touch down there, I get a warm excited feeling.
You chose to create a lipstick collection, as opposed to say, eyeshadow or blush. Are lips the most important element of makeup for you?
Kravitz: You could say so, in some respects, since as an actress the lips are key to deliver the message, they express the words in the script. But what I love about lipstick is that with just a single swipe of color you can express a mood. And when you've had an especially busy day—you know, one of those days where it feels more like four days in one!—lipstick is the best ally for any woman. You can switch moods, and express a different version of yourself with just one quick gesture.
https://www.instagram.com/p/CJJ54ngpc-L/?utm_source=ig_embed&utm_campaign=loading
A post shared by Zoë Kravitz (@zoeisabellakravitz)
As a woman of influence, what piece of advice do you have for women in 2021?
Kravitz: I would say to young women that it's important to experiment and create your own stories. Allow yourself to live a daring life, while being aware of the challenges we have to face right now. But really, whatever your age, wherever you're from around the world, be proud of what you have achieved in your life.
What is your take on makeup and the way it's worn today in our society?
Kravitz: We're free to do what we want, be that wear makeup or don't wear makeup; put on heels or just wear flats. But for me personally, I feel you can't beat makeup as a way to amplify your presence, and for this reason alone there's nothing better than a great lipstick when it comes to making a statement.
Source: Read Full Article