Stranger Things premiered on Netflix in 2016, and besides the spooky storyline and retro '80s setting, fans praised the adorable (and talented) kids that make up most of the Stranger Things cast. Most of the kids' characters on the show were supposed to be between the ages of 12-14, but viewers were curious about how old the cast was in real life.
Here are the ages of the Stranger Things cast, as well as a look back at how they've changed since they joined the show.
Finn Wolfhard as Mike Wheeler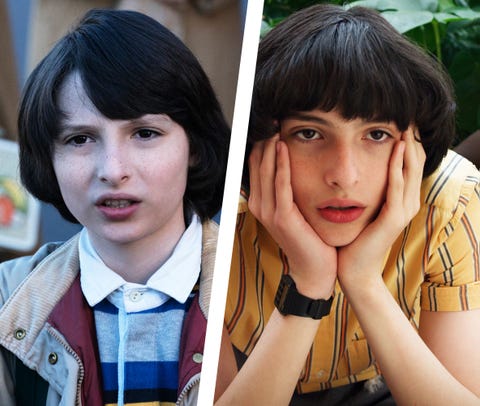 Netflix
Season 1: Finn was 13 when the show first started streaming on Netflix, and his character was written to be 12. In 2016, he told Dazed that he got his role on Stranger Things after auditioning via video call.

Season 3: Finn is now 16, and in 2017, he made his film debut in It—which is coincidentally also set in the 1980s―and he will reprise his role in It Chapter Two. Finn is also the voice of Pugsley Addams in the new animated Addams family film, and he'll be appearing in Ghostbusters 3.
Gaten Matarazzo as Dustin Henderson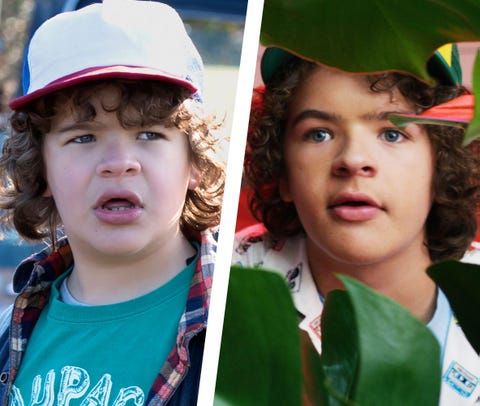 Netflix
Season 1: Gaten was 13 when he filmed Stranger Things season one. Prior to his role as Dustin, he was most known for his roles in Broadway productions like "Priscilla, Queen of the Desert" and "Les Miserables."
Season 3: Gaten is now 16, and he's been busy promoting awareness for cleidocranial dysplasia, a condition that was written into the script for his character. He still attends Pinelands Regional High School in New Jersey and he recently went to prom.
Caleb McLaughlin as Lucas Sinclair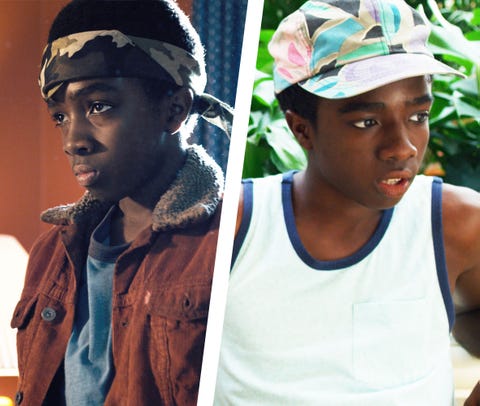 Netflix
Season 1: Caleb was 14 when he landed his role as Lucas. He had previously starred as Young Simba on Broadway, and he had also appeared in episodes of Law & Order: Special Victims Unit and Shades of Blue
Season 3: Caleb is now 17, and he's appeared in The New Edition Story. Caleb is also into fitness, and he partnered with Planet Fitness to get more teens in the gym.
Noah Schnapp as Will Byers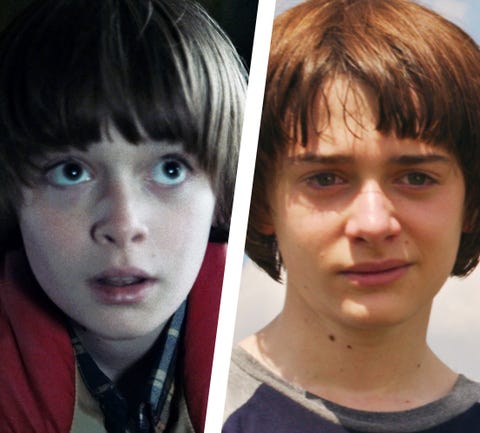 Netflix
Season 1: Noah was 11 when Stranger Things began filming. His prior credits include 2015's The Peanuts Movie, where he voiced Charlie Brown, and Steven Spielberg's Bridge of Spies.
Season 3: Noah, now 14 (and a Fendi ambassador), won an award for "Best Frightened Performance" at the 2018 MTV Movie & TV Awards in 2018. You'll soon see the teenager in Waiting for Anya, where he plays a young shepherd who helps smuggle Jewish children into Spain to save them from the Nazi regime.
Millie Bobby Brown as Eleven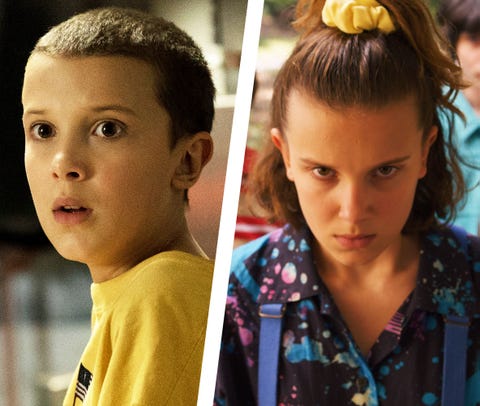 Netflix
Season 1: Millie was actually 11 when she played first played Eleven, and she was nominated for an Emmy and a SAG award for the role when she was 13.
Season 3: Millie is now 15, and she made her film debut in 2019's Godzilla: King of the Monsters. Millie was featured on the 2018 Time 100 list of the world's most influential people, and at 14, she became the youngest person to be appointed as an UNICEF Goodwill Ambassador.
Natalia Dyer as Nancy Wheeler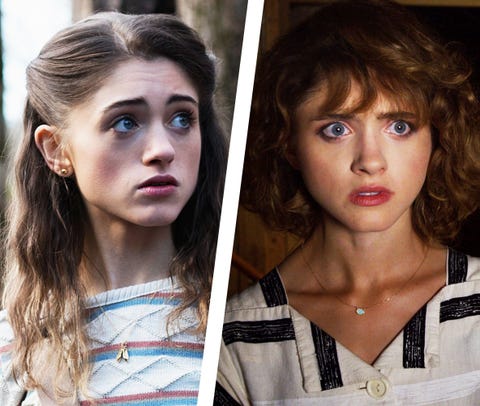 Netflix
Season 1: Natalia was 19 when Stranger Things first premiered. Her first role was in 2009 when she played Clarissa Granger in Hannah Montana: The Movie.
Season 3: Natalia is now 22, and she began studies at NYU's Gallatin School of Individualized Study in 2014. She's also dating her Stranger Things co-star Charlie Heaton (he plays Jonathan Byers).
Sadie Sink as Maxine "Max" Mayfield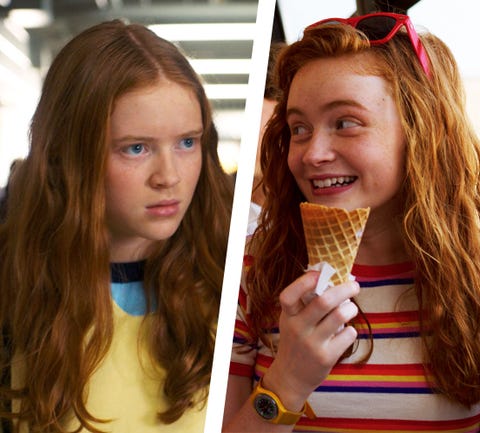 Netflix
Season 2: Sadie joined Stranger Things' second season in 2017, when she was 15. She was already quite a star on Broadway, as she had played the title role in "Annie" and the young Queen Elizabeth in "The Audience" with Helen Mirren.
Season 3: Sadie, now 17, will star in the upcoming film Eli. The horror film follows a boy who is undergoing treatment at a secluded clinic that turns into a haunted prison.
Joe Keery as Steve Harrington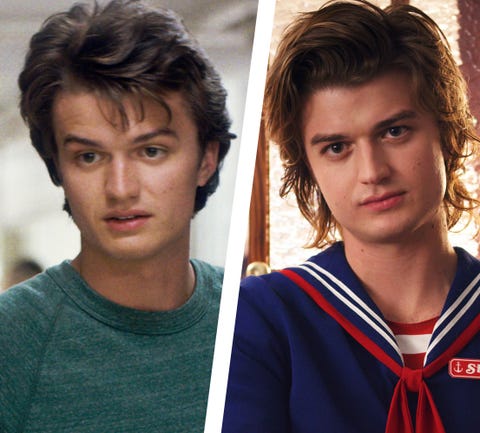 Netflix
Season 1: The 24-year-old started as a recurring character in season one before being promoted to series regular in season two. At the time, he was most known for appearing on shows like Chicago Fire and Empire.
Season 3: Joe turned 27 this past April, and he's been in movies like Molly's Game and Slice. Joe is also a musician, and he used to be a member of the Chicago-based band Post Animal.
Dacre Montgomery as Billy Hargrove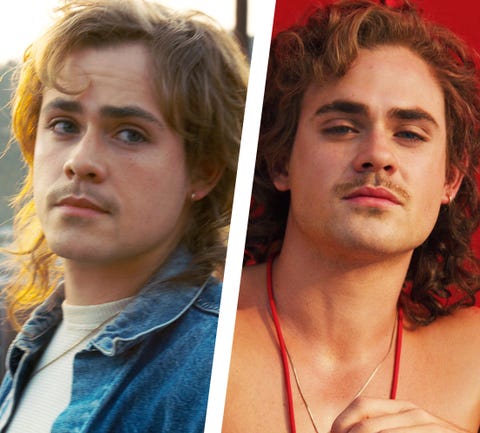 Netflix
Season 2: Dacre turned 22 in 2017, the year he got his role on the second season of Stranger Things. In 2017, the Australian actor also appeared in Power Rangers as the Red Ranger.
Season 3: Now 24, Dacre has a new podcast coming out on July 11, and he also has a pretty kickass Instagram account.
Source: Read Full Article