Loren Brovarnik is savoring every moment as a mother-of-two. The "90 Day Fiance" star announced the name of her second son, who she welcomed with husband Alex on August 16. She took to Instagram on September 12 and wrote, "And then there were 4!!! Please welcome ASHER NOAH BROVARNIK." Loren previously shared that Noah needed to spend time in the NICU after his birth, so we're sure she is happy to have him home and bonding with big brother Shai.
Loren was met with plenty of well-wishes from her fellow "90 Day Fiance" stars, including Elizabeth Potthast Castravet. She wrote, "Love his name! Congratulations." David Toborowsky added, "Beautiful family," along with two red heart emojis. Armando Rubio gushed, ​​"What a blessing! So cute." It appears Noah already has quite the fan club.
It's obvious Loren is enjoying motherhood, but she had some thoughts on having two children under the age of 2. Keep reading for more details.
Loren Brovarnik worried about adding another child to her family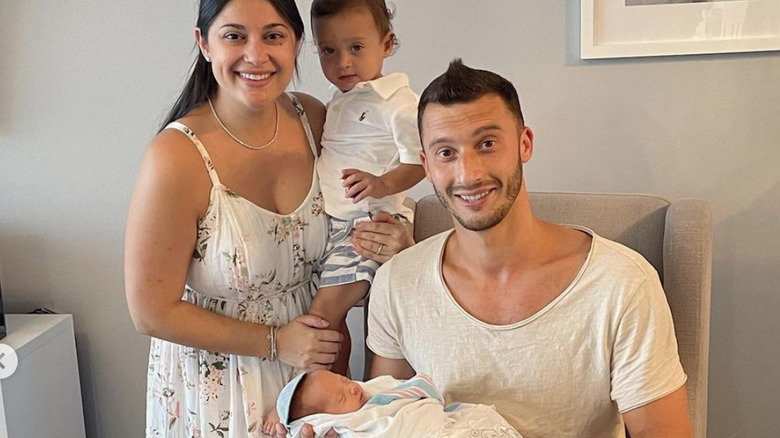 Every pregnancy comes with its own challenges and that rang true for "90 Day Fiance" star Loren Brovarnik. Although she was "excited" to welcome her second child with her husband Alex, she was also "nervous" about having two children under the age of 2. "There are so many things I'm nervous about," she said on a June episode of TLC's "90 Day Diaries" (via Us Weekly). "I'm still adjusting to being a mom with Shai, and now he is gonna be a toddler and growing, and I'm gonna have a newborn at the same time. I'm gonna have two under 2." "I have my hands full here," she added.
Loren is no stranger to dealing with the challenges that come with motherhood — she's been open about her postpartum journey. "Being a new mom is a rollercoaster of emotions," she said on Instagram in May 2020. "I've felt excited, exhausted, scared, in pain and every other emotion you can think of! I've experienced some postpartum depression and I've struggled with judgment and people sharing unsolicited advice."
We're sure Loren is even more prepared for motherhood the second time around.
Source: Read Full Article