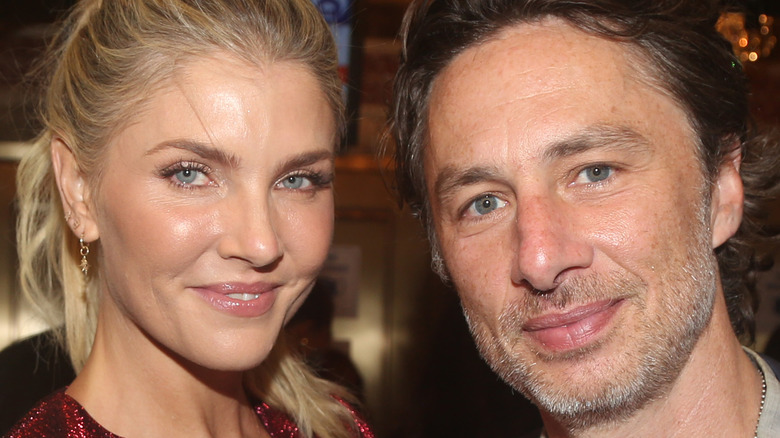 Bruce Glikas/Getty Images
By Cassidy Anthony/Sept. 4, 2021 9:26 am EDT
Amanda Kloots and Zach Braff have one of the sweetest friendships in Hollywood. However, not many people even know how these two stars came into one another's life. As it turns out, while they might not have known it at the time of their initial meeting, this friendship would turn out to be one that both of them would need more than they could have predicted.
Kloots is the quintessential entertainer, with a repertoire of acting, dancing, and hosting up her sleeve. She is perhaps best known for her spot co-hosting the daytime talk show, "The Talk," per Deadline. Kloots was married to actor Nick Cordero, who was star of the Broadway show "Waitress." The two were said to have had an up and down relationship, with a few makeups and breakups occurring during the years thatthey were together; but their love for one another was apparent. They would end up having a son together, Elvis, who is now 2 years old (via Entertainment Weekly). 
Cordero died in 2020 from COVID-related complications, per Page Six. Of her husband's death, Kloots wrote on Instagram, "God has another angel in heaven now. My darling husband passed away this morning. He was surrounded in love by his family, singing and praying as he gently left this earth." But Kloots was not the only one who was devastated by Cordero's death.
Nick Cordero and Zach Braff were best friends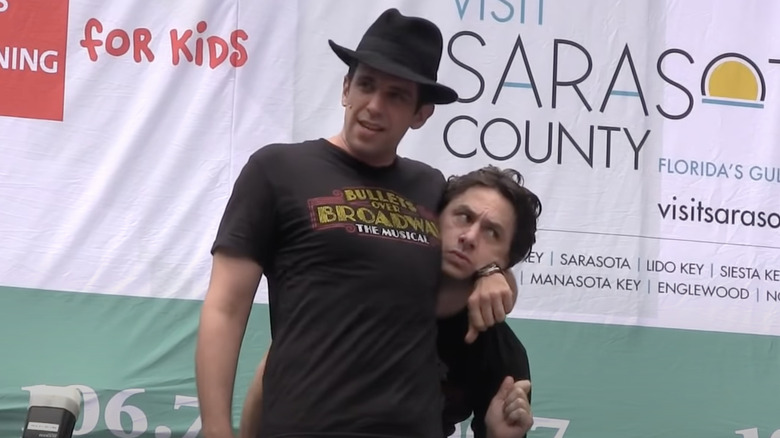 One of Nick Cordero's best friends was none other than "Scrubs" star Zach Braff. The two actors co-starred in the 2014 Woody Allen musical, "Bullets Over Broadway." At one point, Braff described Cordero as "one of my best friends in the world." Upon his death, Braff wrote, "The last thing he ever texted me was to look out for his wife and one year old son, Elvis," Braff wrote on Instagram, adding, "I promise the world they will never want for anything. I feel so incredibly grateful I got to have Nick Cordero enter my life. Rest In Peace. Rest in Power."
Braff and Amanda Kloots became quite close in the time that she and Cordero were together. In fact, while Cordero was in the hospital recovering from coronavirus, Kloots and Elvis stayed at Braff and girlfriend Florence Pugh's guest house in Los Angeles. "Thank God they've been joined by [Kloots'] amazing brother and sister who are taking care of her and helping her with the baby," Braff said in a statement. "And we help them in any way we can, too" (via Page Six). While they all made sure to maintain social distancing and safe COVID practices, Braff shared that he always made sure to drop off resources for Kloots and her family, such as food, wine, and flowers.
Amanda Kloots stayed with Zach Braff while her husband was sick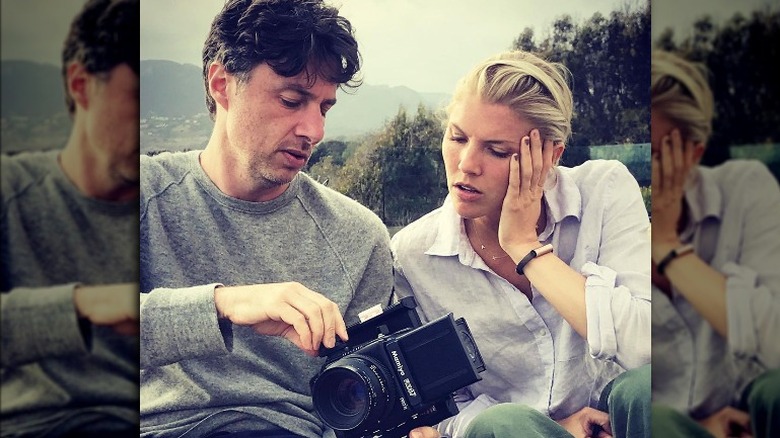 Zach Braff is a huge supporter of Amanda Kloots and described her as "amazing." Speaking on Kloots, Braff gushed, "She's a motivational trainer, so she's gone into full-on bad-ass crisis dealing mode. If you look at her Instagram, she tells stories about [Cordero] and she motivates other people — she's literally trying to motivate other people" (via The Hollywood Reporter).
And indeed, the sentiments are reciprocated. Kloots is a huge fan of Braff, calling their friendship "honest" and full of "love." She told Us Weekly, "Zach is such a dear friend," adding that she will never forget meeting him on the set of "Bullets Over Broadway." Kloots recalled, "We kind of just instantly bonded and then have stayed best friends. He's one of the most generous human beings, and if you're lucky enough to call yourself one of his friends, you are very lucky."
In the time that Kloots has been friends with Braff, she has subsequently become quite close to his girlfriend, "Little Women" actor Florence Pugh. "I love Florence," Kloots shared. "Florence is an amazing chef. She prefers to cook rather than go out, so I've enjoyed many meals cooked by Florence at the house." Pugh often shares her cooking ventures on her Instagram, a series she has called "Cooking with Flo" (via Newsweek).
Amanda Kloots paid homage to her husband on Broadway with Zach Braff supporting from the audience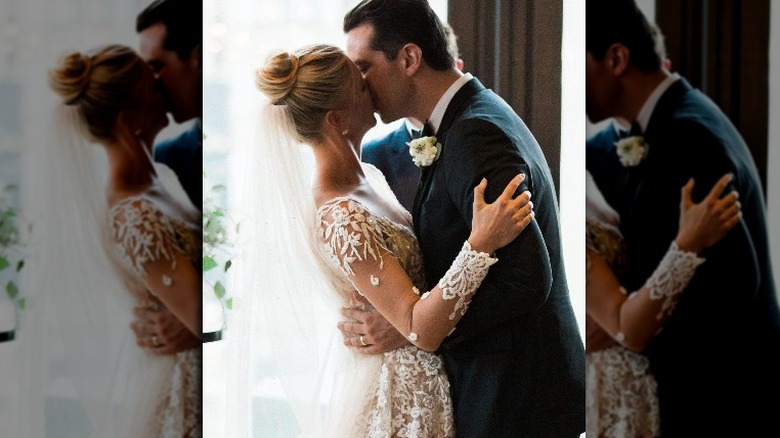 Broadway shows have been halted since the COVID-19 pandemic has deemed it unsafe. However, in an attempt to return to some degree of normalcy, some shows are making their return to the stage. One of the first shows to officially reopen is none other than "Waitress," in which Nick Cordero famously starred as Earl. in order to pay homage not only to the return of live performances, but also to Cordero's death, Kloots took center stage to say a few words about her late husband. And, in true BFF fashion, Braff came by to show his support (via CNN).
Kloots took to Instagram on September 2 to share some thoughts regarding the husband's commemoration. "A standing ovation before the show even began! What a night! To see a Broadway show again tonight was unbelievable," she wrote. "I've actually never seen a show like this one tonight. I'm literally at a loss for words. Thank you @waitressmusical."
Her September 3 Instagram post also paid tribute to her husband in honor of their fourth wedding anniversary, in which she wrote, "You'll always be my husband, my angel now, but always the love of my life."
Source: Read Full Article