One month before Lisa's passing, the 20-year-old actress starring on the hit Netflix series 'Wednesday' talked about the impact Lisa made and how she paid homage to the late star.
AceShowbiz –Jenna Ortega mourns the death of Lisa Loring, the first actress to play the role of Wednesday Addams on the 1966 sitcom "The Addams Family". Taking to her social media platform, the 20-year-old actress said she's "absolutely devastated."
The actress starring on Netflix hit series "Wednesday" posted via Instagram Stories on Monday, January 30 a black-and-white photo of Lisa playing the role as a child. Over the snapshot, she added a touching message that read, "Absolutely devastated. Thank you for everything."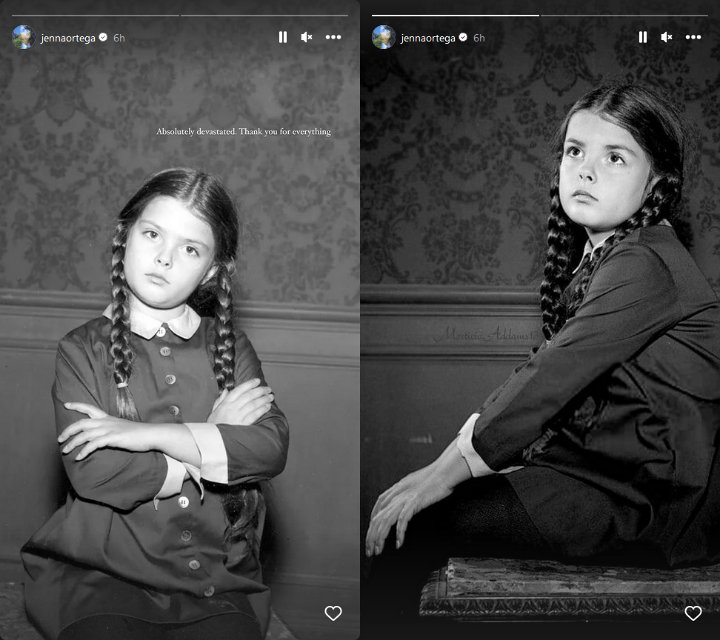 Jenna Ortega paid homage to Lisa Loring following her death.
Jenna's thoughtful social media gesture came shortly after Lisa's death was announced by her longtime agent Chris Carbaugh. "[Lisa] passed away on Saturday surrounded by her family," Chris told CNN in a statement.
"She brought to life one of the most iconic characters in Hollywood history that is still celebrated today," Chris added. "Lisa loved sharing her memories and meeting all her fans across the world. She will be missed dearly."
Lisa's friend Laurie Jacobsen offered more details, writing via Facebook, "It is with great sadness that I report the death of our friend, Lisa Loring. 4 Days ago she suffered a massive stroke brought on by smoking and high blood pressure. She had been on life support for 3 days. Yesterday, her family made the difficult decision to remove it and she passed last night." Lisa is survived by her two daughters, Vanessa and Marianne.
Shortly after the sad news about Lisa went public, many other celebrities shared tributes. "Farewell lifelong muse. I loved you well. You were the OG. Thank you Lisa Loring for making weird girls seem so cool," band Garbage posted on Twitter.
"Rip dear Lisa Loring. Delightful in the role of the youngest member of The Addams Family, your iconic presence as the original Wednesday will forever be remembered. You were an important part of our cultural history. I was so happy I met you. I hope you knew how much we loved you," actress Barbara Crampton shared.
Before Lisa's death, Jenna talked about the impact she made and how she paid homage to her on the Netflix series. During an interview on "The Tonight Show Starring Jimmy Fallon" in December last year, she said, "I paid homage to Lisa Loring, the first Wednesday Addams. I did a little bit of her shuffle that she does."
You can share this post!
Source: Read Full Article