Liam Payne seems to have moved on from his rumored tryst with Naomi Campbell…
On Wednesday, the One Direction band member attended the Cartier and British Vogue Darlings Dinner at the Residence at Cartier in New Bond Street where he posed for a pic with 23-year-old model Duckie Thot.
Additionally, the runway diva — who has walked for Victoria's Secret — shared a flirty snap on Instagram Story of the hunk's tattooed hand over hers.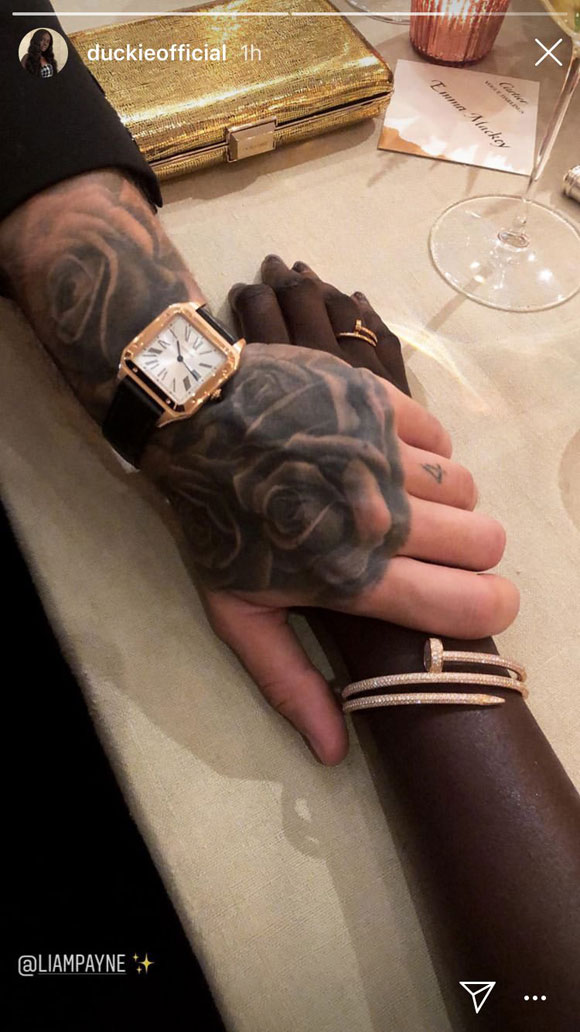 After the sultry pic went viral, fans hypothesized that the two are an item.
They wrote on social media:
"How many chickens did Liam Payne sacrifice to be able to get Naomi Campbell and Duckie Thot in the same lifetime????"
"liam payne is unstoppable first naomi and now duckie"
"Liam Payne impregnated Cheryl, dated Naomi, and now Duckie?! HOW BIG IS THAT DICKCJAJEIXKAHEJ?!!?$8393&,/'Dncisnwncnckakwnfkxnccmc"
"there's a lot of things that don't make sense in the universe but what I'm most confused about is how THE F**K did Liam Payne get Naomi Campbell and Duckie Thot …."
"i go out for one hour and now liam and duckie fckin thot are a thing? the glitch in simulation…"
"so um i come to find out liam payne and duckie thot are DATING?.)'/$/!./&/'"
"I CANT VREATHE LIAM AND DUCKIE"
"hello why is nobody talking about THE liam payne dating THE duckie thot?!!!!!!"
"duckie thot and liam payne are dating and I need to understand how he secured both her and Naomi campbell"
"Roll it ALLLLLL the way back. Liam. Liam Payne. And Duckie??? And just a few months ago there were rumors of him and Naomi Campbell. I have many questions."
"Liam payne is supposedly dating duckie thot, a man of taste"
"LIAM PAYNE IS DATING DUCKIE THOT????????? WOW if I was 14 years old rn I'd be crying bitch"
Reportedly, Naomi ended her rumored four-month relationship with Liam in April 2019.
A source told The Mirror:
"Liam and Naomi had a lot of fun together, they got on well and had a laugh. But it just wasn't meant to be… They are going to stay friends — there are no hard feeling with either of them."
However, an insider dished to The Sun:
"Naomi has taken the decision to let things fizzle out… She's just not into Liam any more and has cast him aside. Quite simply she got a bit bored… He was always the more keen, slightly needy one and, as far as she was concerned, they were never officially an item anyway. It's always been very casual."
One thing's for sure… Liam seems to have a thing for models!
Source: Read Full Article