The 'Drip Too Hard' hitmaker and the Instagram beauty spark dating speculation after they post photo and video of similar scenery from their tropical getaways around the same time.
AceShowbiz -Has Lil Baby finally completely moved on from Jayda Cheaves now? The rapper, who dated Jayda on-and-off for years until their split in 2021, is rumored to be romantically linked to model Marilyn Melo following their similar Instagram Stories.
On Wednesday, February 8, Lil Baby took to his Instagram Stories to share a photo from a tropical island where he's currently resting. The picture shows a pool overlooking the beach and the ocean, just outside his hotel room.
On the same day, Marilyn shared via her own account a video of a similar scenery from her hotel room, hinting that they may be vacationing together. In the clip, the 28-year-old Dominican Republic native captured the beautiful view that she can enjoy from her bed and the outdoor pool.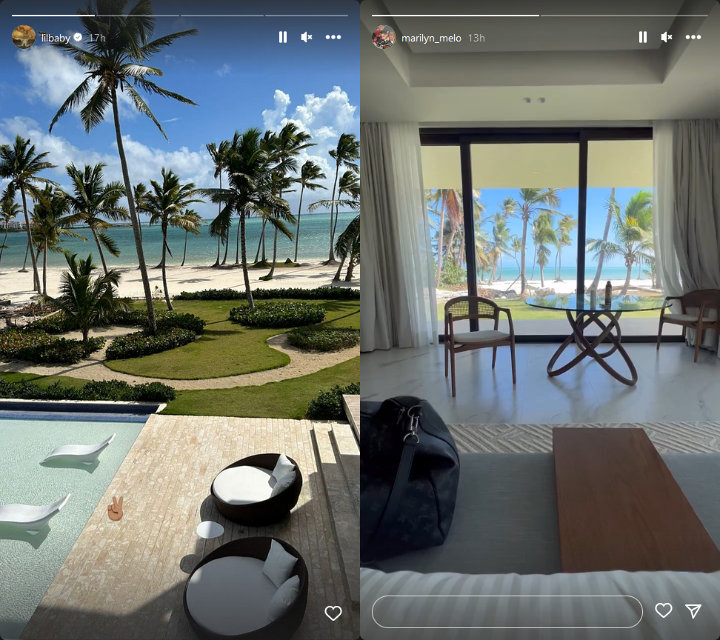 Lil Baby and Marilyn Melo's IG Stories sparked dating rumors.
Both Lil Baby and Marilyn didn't mention their locations and didn't feature each other in their Stories, but those are enough to set off the talks about whether they're dating or not.
After seeing those Stories, some social media users blasted Lil Baby for allegedly being with everyone other than Jayda. "Every city, baby with someone other than Jayda omg," one person commented. Another called him out, "Lil baby is so accessible and i hate that for him."
Another is convinced that Lil Baby and Marilyn are at the same place at the same time. "If y'all look at her story you can see the similarities better," the third user opined.
Some others, meanwhile, urged Jayda to move on from Lil Baby too. "It's time for jayda to pop out with someone richer than him. Hopefully she can pull a richer high standard man," one of the fans weighed in.
Back in January, Lil Baby was rumored to be impregnating Chief Keef's baby mama. After Slim Danger declared that she's pregnant with his baby, the 28-year-old rapper appeared to shut down the claims as he wrote on his Story, "Y'all gotta stop with the False narratives. Certain s**t you gotta kno N***as ain't doing. Well n***as like me."
You can share this post!
Source: Read Full Article