A few days earlier, the 64-year-old 'Like a Virgin' hitmaker called out trolls who criticized her smooth Grammys appearance, hitting out at 'ageism and misogyny.'
AceShowbiz –Madonna does not have time to think about people debating on her changing appearance. The Queen of Pop continues to flaunt her wrinkle-free face after slamming "ageism and misogyny."
On Thursday, February 9, the 64-year-old "Like a Virgin" hitmaker showed off her smooth visage as she posed next to her daughter Lourdes Leon. She could be seen wrapping her arms around the 26-year-old model, who wore a black lace transparent dress.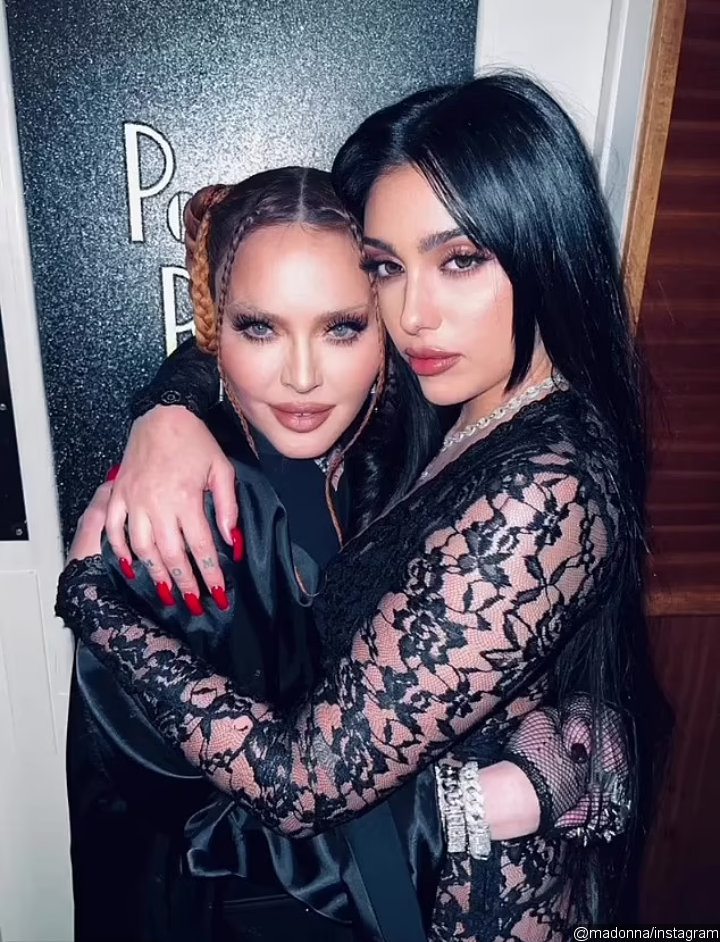 Madonna showcased her smooth visage as she posed next to 26-year-old daughter Lourdes Leon.
The snapshot appeared to be taken following Madge's controversial appearance at the 2023 Grammy Awards on Sunday after which fans dubbed her face "unrecognizable." Upon learning of the criticism, the "Material Girl" singer posted a lengthy Instagram caption, hitting out at "ageism and misogyny."
"Many people chose to only talk about Close-up photos of me Taken with a long lens camera By a press photographer that Would distort anyone's face!!" she wrote on Instagram. "Once again I am caught in the glare of ageism and misogyny That permeates the world we live in. A world that refuses to celebrate women pass the age of 45 And feels the need to punish her If she continues to be strong willed, hard-working and adventurous."
Madonna went on to note that she has "never apologized" for her appearance, and she's "not going to start," before referencing Beyonce Knowles' "Renaissance" hit, "Break My Soul". She added, "I have been degraded by the media since the beginning of my career but I understand that this is all a test and I am happy to do the trailblazing so that all the women behind me can have an easier time in the years to come," before concluding, "Bow down b***hes!"
Despite so, Madonna was labeled "sick person" by Megyn Kelly. The SiriusXM podcast host of "The Megyn Kelly Show" alleged that Madge is "unwell" and is suffering from a "sickness" after observers said the singer was unrecognizable due to cosmetic surgery. "I'm sorry but this is a sickness," the broadcaster said.
"This is an unwell person who we featured at the Grammys the other night, and I don't know if it says more about her, about our society, or about celebrity, but it's disturbing me at the core," the 52-year-old former FOX News broadcaster added.
You can share this post!
Source: Read Full Article