Happy Monday! While you spend your day getting back into the groove post-turkey coma, Meghan Markle, Prince Harry, and Prince William are spending it by crossing "meet Donald Trump" off their agenda.
Meghan Markle has managed to wiggle her way out of yet another event with Trump, which means she'll end 2019 without meeting the U.S. president. Even though she's American-born herself, Meghan has yet to meet with Trump face-to-face, unlike the other royals, despite his visits to Buckingham Palace this year.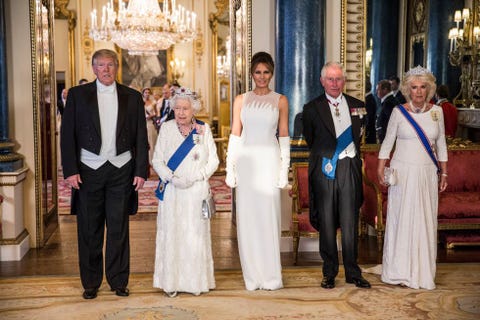 The latest Trump royal UK trip will happen on Tuesday, when Queen Elizabeth hosts him for a reception while he's in London for a NATO summit. While the queen, Kate Middleton, Prince Charles, and Camilla will all be there, Meghan Markle, Prince Harry, and Prince William get a pass. Harry and Meghan are taking time off with their family until 2020 after facing intense scrutiny this year, so the timing kind of worked out for them to sidestep this while they were at it.
"The Duke and Duchess have a full schedule of engagements and commitments until mid-November, after which they will be taking some much-needed family time," a source confirmed to People.
Prince William, on the other hand, is away on a solo royal tour of the Middle East in Oman and Kuwait. William and Harry did meet Trump when he visited in June (clock Harry standing near Ivanka Trump in the back of the pic below), but Meghan didn't because she had just given birth to baby Archie.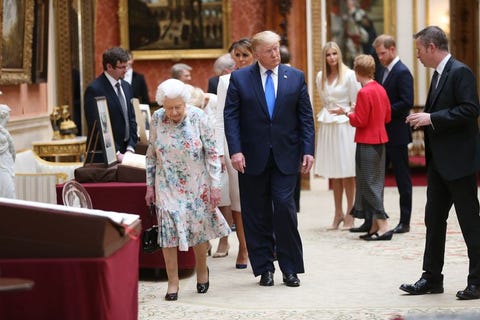 Maybe it's divine intervention that Meghan Markle and Donald Trump have never actually met….He did call Meghan "nasty," after all.
Source: Read Full Article