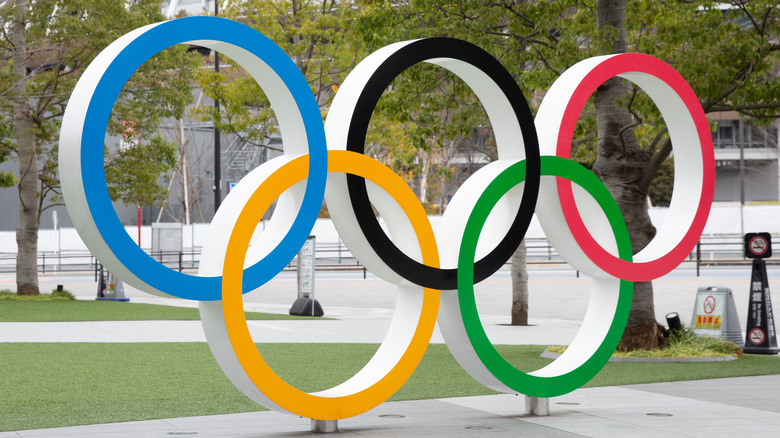 It's almost time for the summer Olympics to begin in Tokyo. The games that were set for the summer of 2020 were postponed by a year due to the ongoing coronavirus pandemic, according to the BBC. The opening ceremony will now take place July 23, 2021, and some of the athletes have already started to arrive in the Olympic village. 
Among the athletes on Team USA who are the "ones to watch" are defending Olympic champion Simon Biles and track and field star Allyson Felix, according to ESPN. With the U.S. projected to win around 40 gold medals, according to USA Today, there is potential for many athletes of this year's Olympic games to come home as superstars. 
However, for every Michael Phelps and Megan Rapinoe, there is also a whole bunch of athletes who many people have forgotten about since they took home their gold medals. You might even be wondering what a few of these former Olympic champions are doing now. 
Former all-around Olympic champ Carly Patterson is a mother now.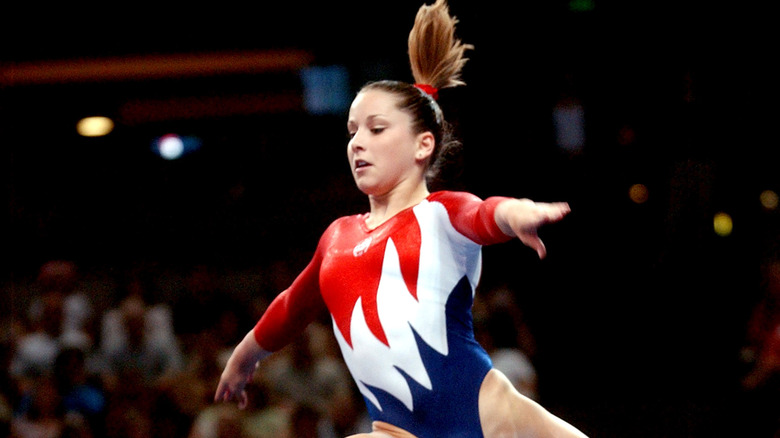 If you were glued to your TV in the summer of 2004, you'll remember Carly Patterson was the all-around gymnastics champion for Team USA (via People). She eventually had to retire after Athens due to a back injury, according to Inside Gymnastics. 
Patterson entertained the idea of coming back to the sport in 2010, but after speaking with her coach decided that retirement "was the right choice." She ultimately finished out her career "on a high," which is what she'll be remembered for. 
However, since retiring, Patterson has kind of taken a step back from the limelight and instead is focusing on her family. The Olympic champ gave birth to her third child in February 2021, according to People. Back in June, her baby boy, Pearson Philip, was hospitalized for a respiratory syncytial virus (RSV) but is on the mend now. In July, Patterson shared an adorable photo of her son on Instagram with the caption, "5 months with this moose! If only we could get consistent in the sleep department he'd be absolutely perfect." 
Eight-time medalist Apolo Anton Ohno has turned to writing.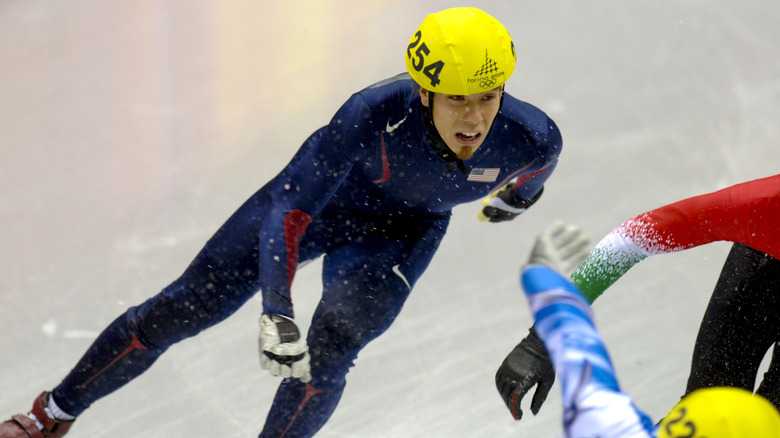 Apolo Anton Ohno was first a star at the 2002 Olympic games when he took home the gold in men's 1500m for speed skating as well as the silver medal in men's 1000m (via Team USA). He then went on to win gold at the 2006 games and medal in the 2010 games before retiring. While he still may be "the face of American short track speed skating," according to Sports Illustrated, you never really hear from him anymore. 
As of writing, Ohno is working on a book, however, according to KTLA. The book, titled "Hard Pivot," is basically a self-help book that includes Ohno's "five golden principles" for overcoming challenges, according to Amazon. "Hard Pivot" is expected to come out in February 2022. 
He has a few other books that you can read until then, including "Zero Regrets: Be Greater Than Yesterday" from 2010 and "A Journey The Autobiography of Apolo Anton Ohno" from 2002 per Amazon.
Dominique Dawes is trying to change gymnastics for good.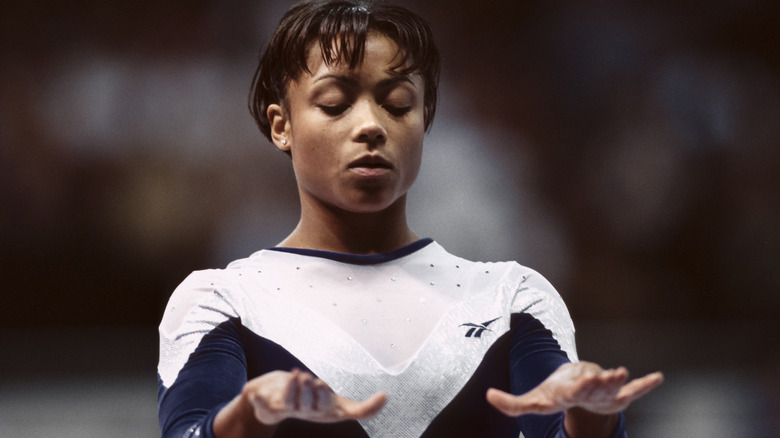 At one point, the women's gymnastic team from the 1996 Games in Atlanta were some of the most popular athletes in the world. Known as the Magnificent Seven, the Olympic champions were turned into celebrities overnight after winning the first-ever gold medal for Team USA in the women's team competition (via Sports Illustrated). Among the seven was Dominique Dawes who participated in the 1992 Games as well the 2000 Games later. 
While Dawes, who is now 44 years old, has retired from gymnastics, she was recently asked by People what she thinks of the current state of gymnastics leading up to the Tokyo Games. The gold medalist said that she believes it's unhealthy for the "young girls" to feel like "they're under a microscope." She added that there needs to be a way to make the sport "a little bit more compassionate." 
Along with speaking up, Dawes is also a producer on the Peacock documentary, "Golden: The Journey of USA's Elite Gymnasts," which follows five athletes as they prepare to make it on the Tokyo Olympic team (via Yahoo!). "Golden" can be watched on the streaming app right now. 
Back-to-back Olympic champion Greg Louganis trains dogs for agility competitions.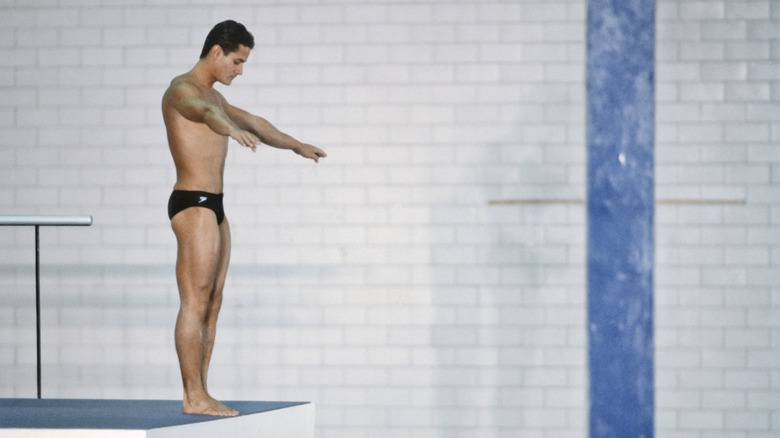 Diver Greg Louganis was once known as "Mr. Perfect" for being points ahead of his competition, according to Yahoo!. He's a four-time Olympic gold medalist, who won both the springboard and platform gold medals in back-to-back Olympic Games in 1984 and 1988. After retiring from the sport, Louganis later revealed that he was gay and had actually been "diagnosed with HIV six months before the 1988 Games," according to History. 
Despite receiving some backlash at the time, Louganis has said that he believes a part of his confession helped to "advance Americans' acceptance of those with HIV." Now, Louganis helps to train dogs for agility competitions, according to People. 
While he has remained a low profile, the retired Olympian did make news in 2021 after he announced that he and his husband of eight years, Johnny Chaillot, were divorcing (via Instagram). In his Instagram post, Louganis said that while they have decided to "respectfully and mutually [end their] marriage," the two are grateful to have been "among the first gay couples to have the privilege to marry legally." 
Natalie Coughlin is now a winemaker using her swimming skills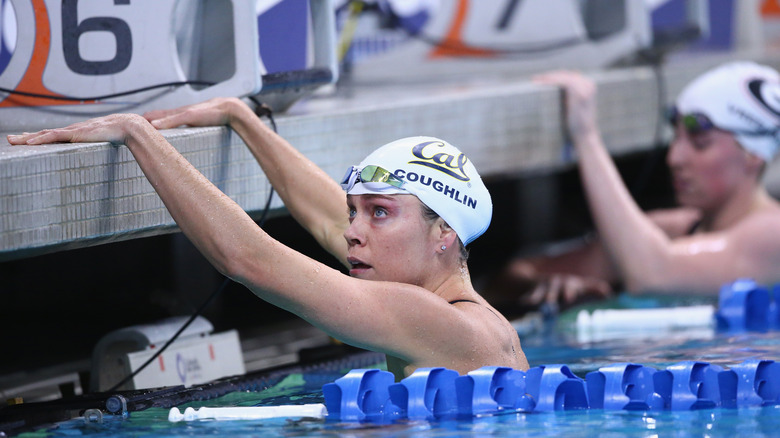 Natalie Coughlin has a lot of Olympic medals to her name — 12 to be exact. She won her first gold medals at the 2004 Athens Games, according to Swim Swam, for the 100m backstroke and 800m freestyle relay. However, it was the 2008 Beijing Games when she really solidified herself as an Olympic star when she won back-to-back gold medals for the100m backstroke and picked up six other medals. 
While she never officially retired from the sport, the last time Coughlin tried competing in the Olympics was when she swam during the 2016 Olympic trials but failed to land herself a spot on the team. Since then, Coughlin has focused on something else — wine. 
The Olympic swimmer is now a winemaker with her own label, according to Sports Illustrated. She even gets to use some of her swimming skills in the winemaking process when she has to punch down the grapes in the bin. According to Coughlin, she has to "kind of [swim] through the wine," and luckily, she has "really long arms." 
Source: Read Full Article