The good news: Only Murders in the Building took home a ton of Emmy nominations, which yay since it's one of the smartest (and definitely the coziest) shows of the year. But while living legends Steve Martin and Martin Short both earned Outstanding Lead Actor in a Comedy Series nominations, their co-star Selena Gomez didn't get nominated for Lead Actress (absurd)—and they aren't thrilled about the snub.
Speaking to the New York Times about Only Murders' 17 Emmy nominations, Steve Martin said "Well, we're thrilled. We're thrilled at the nominations, not only for us but for the show. We're dismayed that Selena was not nominated because she's so crucial to our performances, really." Martin Short then added that "She is nominated as an executive producer."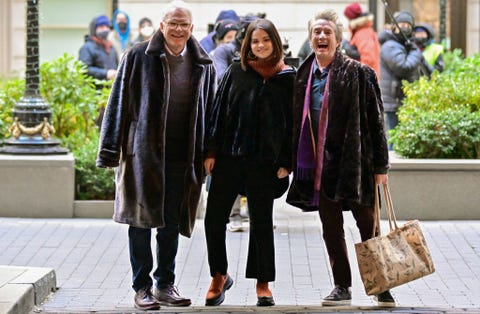 Meanwhile, series co-creator John Hoffman told Deadline "Our trio is the heart of everything and the reason for the success of this show. They made all of that happen together, the three of them, with Selena being an essential part of that. I know everyone feels bad but all our nominations are hers as well. Nominations are tricky and you never know who is going to be included. It can feel unfair at times like on a day like today where we're all so celebrated but I am so proud of her."
While Selena wasn't nominated in the Lead Actress category, her nomination as a executive producer is history making. Variety reports that this is only the second time a Latina woman "has ever been among the producing nominees for comedy series in the 74-year Emmy history."
Hopefully, Selena will be nominated in the acting category next year. She deserves it.
Source: Read Full Article