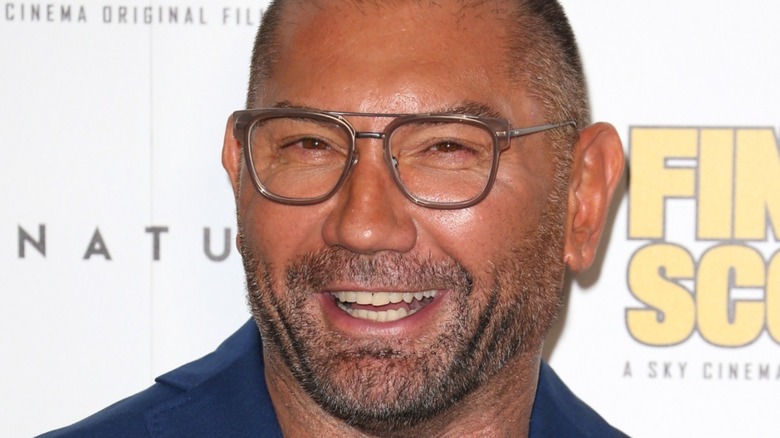 While many people know Dave Bautista best as that really big dude who plays Drax in the "Guardians Of The Galaxy" film series, as well as the really big dude from "Escape Plan 2," "My Spy," "Stuber," "Riddick," or a bunch of other movies, before he broke into acting he first found fame in the wrestling ring. In fact, this former WWE superstar was a fixture in the squared circle for over 20 years (via LiveAbout), and while The Sun reports that he was dropped from the 2021 roster of Hall of Fame inductees, this may well be because WWE intends to award him their highest honor next year in front of an even larger audience.
Fame, as they say, has its privileges, and chief among them is the fact that few celebrities, Bautista included, are ever short of potential romantic partners. While Bautista may be without a lady friend at the present time, he's had a lengthy string of partners in his past and we doubt it take too long for him to find yet another special someone.
The first Mrs. Bautista now works in marketing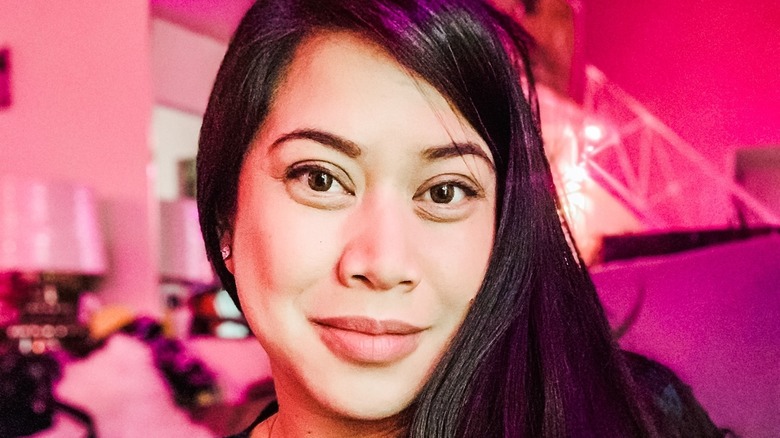 Dave Bautista himself is of mixed Greek and Filipino descent, and CelebCritics says that his first wife, Glenda, is also a Filipino-American whose parents were both born in the Philippines. The couple married in 1990 and later that year welcomed their first daughter, Keilani. Daughter number two, Athena, came along in 1992. They divorced in 1998 after 8 years of marriage, just as Bautista's wrestling career was starting to take off.
Although Glenda didn't ever get to experience much time in the spotlight as a celebrity plus-one, she's a very successful woman in her own right. She holds an MBA and is currently working as a Senior Director in Ad Products at Hearst Publishing after previously occupying high-level positions at companies including iHeart media, AdPrime Media, and AOL. She remarried in 2014 to a man named Chris Baker whose LinkedIn bio lists him as a creative director at Zen Studios. According to Glenda's Facebook page, she now uses the hyphenated last name of Bautista-Baker. While we don't know to what extent Glenda and Dave Bautista are still in touch, they do share grandkids in common, since Keilani has two sons named Aiden and Jacob.
Bautista supported his second wife through a cancer diagnosis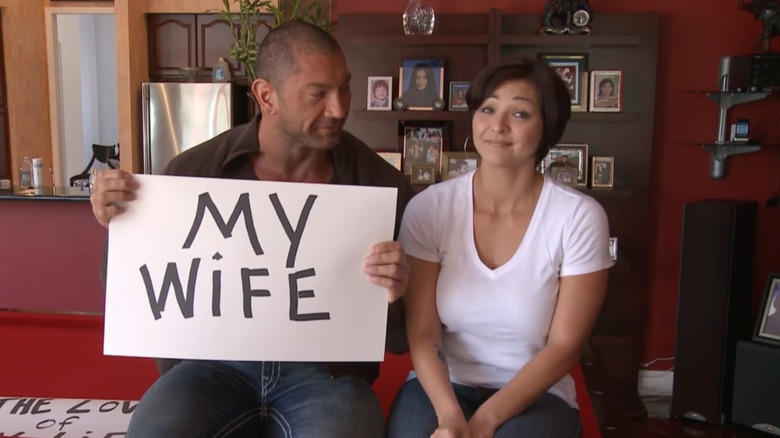 Bautista didn't wait too long before tying the knot again as he married his second wife Angie in the same year that he and Glenda divorced. A few years after they married, Angie was diagnosed with ovarian cancer. Her husband stood by her as she went through treatment, and Facts Ninja says he used his growing fame to raise finds for the Ovarian Cancer Research Alliance (OCRA). A video he filmed to promote this cause was released in 2010 (via YouTube), several years after the couple split.
The marriage broke up in 2006, supposedly due to Bautista's dalliance with a WWF diva. The year after they divorced, though, two things happened that brought the couple back together as friends, although they never rekindled the romance. 2007 saw the birth of the couple's son, Oliver, as well as the publication of Bautista's autobiography, "Batista Unleashed" (for some reason, the WWE chose to drop the "u" from his last name to give him his ring name). Bautista must have had nothing but good things to say about his recent ex in that book, since after she read it, the two reportedly felt closer than they'd had in years. Post-divorce, Angie and Oliver have pretty much kept themselves to themselves, but she's apparently still doing well and was last reported to be working as a fitness supporter.
Bautista's dated a number of fellow wrestlers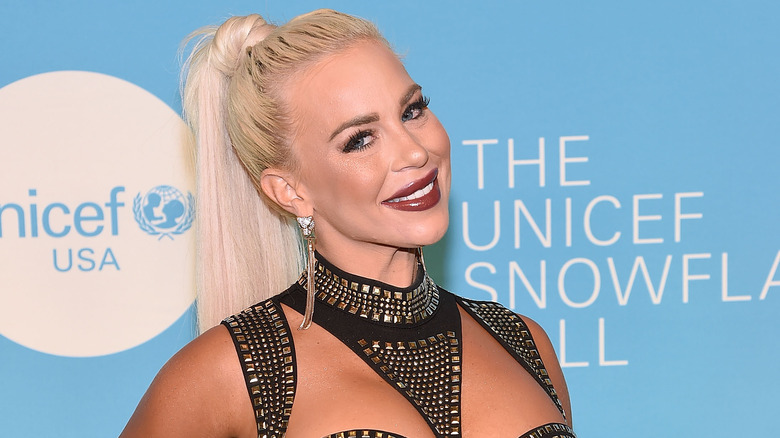 According to The Sportster, Bautista was all about the office romance after his second divorce, as he dated a bunch of women who also wrestled for WWF/WWE. He may have started dating diva Melina Perez while still married to Angie, and he was definitely an item with Rebecca DiPietro, a former Playboy model who briefly turned wrestler in 2006. Apparently their relationship didn't last much longer than her in-ring career, since Bautista soon returned to Perez before moving on in 2008 to the higher-profile diva Kelly Kelly (now known as Barbie Blank). 2009 saw Bautista dating yet another diva, the Canadian Rosa Mendes. It's also rumored that he had flings with Layla El, Taryn Terrell, and Shelly Martinez before finally settling down (temporarily) with wife #3.
After his third marriage broke up, Bautista returned to form, dating fellow WWE star Dana Brooke. While the two flirted online to the extent where WWE even created a storyline around their romance, Brooke told Forbes that because they were both so busy, their offline relationship kind of fizzled out and she's now happily coupled with UFC star Ulysses Diaz. Still, she says, she and Bautista remain "great, great friends" and he's now pals with Diaz as well.
Bautista's third wife is also an entertainer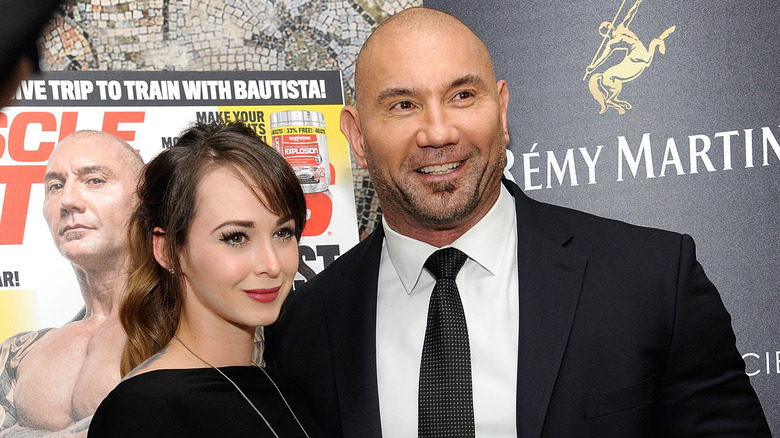 Dave Bautista married for the third (and the last, at least as of the time of writing) time in 2015 to a professional pole dancer named Sarah Jade whom he'd apparently been dating for a few years prior to their formalizing the union. According to Players Bio, Jade was born in 1987, which makes her 18 years younger than her husband.
The Sportster reports that Jade continued to pursue her profession throughout the marriage, being named Miss Pole Dance America in 2016 as well as continuing to operate Buttercup Pole Dance, the studio she opened in 2011. Although the Bautistas separated in 2019 for reasons best known to themselves, evidently they have yet to finalize the divorce. It appears Jade hasn't taken it too hard, though. She's posted a number of Instagram photos with a new man, and her pole dance studio seems to be thriving as it now employs 9 instructors in addition to lead instructor and owner Jade. As her website says, "10 years later, I still wake up excited to go to work!"
Source: Read Full Article