Robert Durst went from millionaire heir to alleged serial killer in a matter a matter of months. The disappearance of his wife, Kathleen McCormack, in early 1982 certainly raised suspicion among authorities, but it wasn't until late 2000, when his longtime friend, Susan Berman, turned up dead in her California apartment that he began to really raise some eyebrows. As New York Magazine reported in March 2002, police had kept suspicious eyes on the real-estate heir since McComarck went missing all those years back. The suspicion of his being a full-blown serial killer was sealed just nine months later when, in September 2001, his neighbor, Morris Black, also turned up dead in Texas.
In March 2015, more than 14 years after the crime, Durst was arrested and charged with first-degree murder in connection with the death of Berman, as CNN reported. This new development came after he was acquitted in the death of Morris, whose body parts were found in Galveston Bay, according to ABC News. Durst admitted to killing his neighbor, but he successfully argued it had been in self-defense, per the report — a case that became a nationwide phenomenon with the release of the 2015 HBO docuseries "The Jinx."
In March, Durst was taken to court to stand trial for the death of his friend. On September 2 of this year, the trial was still ongoing. By many accounts, Berman is not just a friend but also a confidant. Read on to learn more about their relationship.
Susan Berman was reportedly Robert Durst's alibi in his wife's disappearance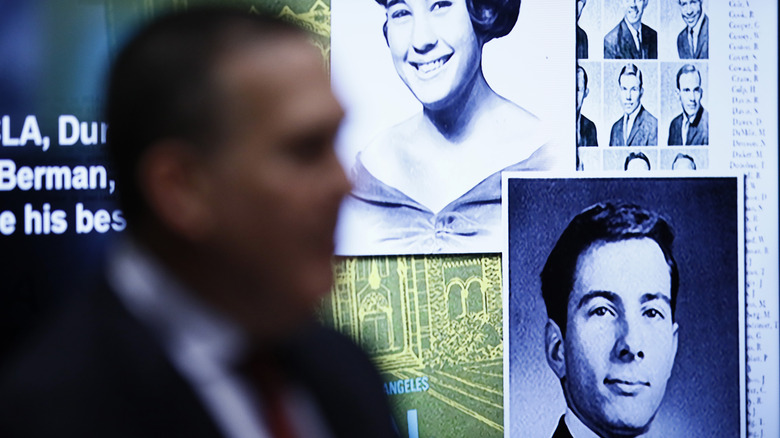 Susan Berman, the daughter of a mobster with close ties to Bugsy Siegel, according to New York Magazine, met Robert Durst at UCLA in the late 1960s, where Durst enrolled in a doctoral program and Berman was studying to become a writer, according to a 2001 New York Times report. They remained close after their years at UCLA, with Berman often referring to Durst as her "brother," per New York Magazine. Durst was the man who gave Berman away at the Hotel Bel-Air when she got married in 1984, per the Los Angeles Times.
The author of two memoirs, Berman included Durst in all of her works dedications, per New York Magazine. When she was financially strained, Berman turned to her beloved friend. "It was always 'Bobby this, Bobby that, wonderful Bobby,'" a friend of hers told the magazine. And when Kathleen McCormack disappeared, it was Berman who took his calls and informed everyone he needed to retreat for a while, per The New York Times. Berman also helped him handle media requests, the Los Angeles Times noted.
While accounts vary, one friend told New York Magazine that Berman had previously revealed that "she'd provided Bobby's alibi." In November 2000, the Westchester County District Attorney's Office reopened Durst's wife case and included Berman on a list of people to reach out to, the magazine reported. A month later, she was dead.
Authorities believe Susan Berman was Robert Durst's conspirator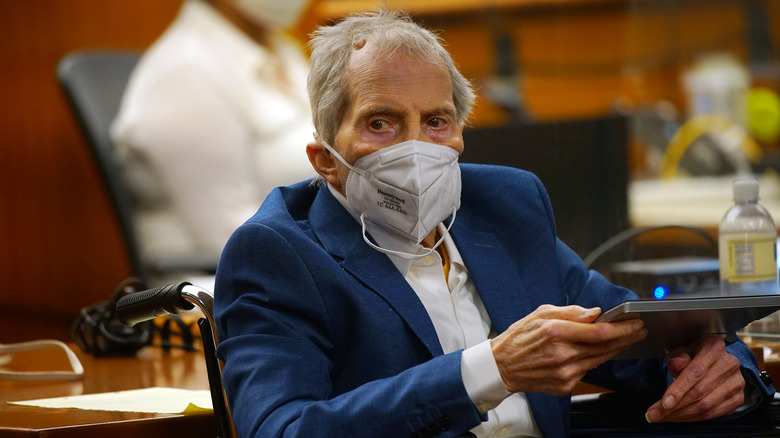 Susan Berman was shot in the back of the head inside of her Los Angeles apartment, per Los Angeles Magazine. Berman likely knew the gunman, the report argued, because she was highly suspicious of strangers and never opened the door to anyone she didn't know. Due to her family's connection to organized crime, her death was initially suspected to be a mob hit, per New York Magazine. But District Attorney Jeanine Pirro announced shortly after that she'd planned to interview Berman in connection with Kathleen McCormack's case. 
However, it would take authorities nearly a decade and a half to arrest him. They did so on March 15, 2015, just a couple of hours before the final episode of "The Jinx" aired, according to New York Magazine. Throughout pretrial proceedings, prosecutors have argued Durst flew out to California to kill his friend, afraid she would reveal incriminating information regarding his wife's disappearance, per Los Angeles Magazine. 
Authorities have gone as far as to claim that Berman conspired with Durst to cover up what they believe was the murder of McCormack, the report detailed. Witness testimony contended that Berman called police 11 days after McCormack was last seen to purposefully derail the investigation, according to Los Angeles Magazine. "Obviously it's horrible that Berman was murdered by Durst. But we'll always be mindful that she was Durst's coconspirator in covering up Durst's murder of our sister," McCormack's older sister, Mary Hughes, told the magazine.
Source: Read Full Article