It's been just over 10 years now since Prince William and Kate Middleton's fairytale wedding. While the event was historic, ask any one of the estimated 2 billion viewers for a standout moment and they'd probably say two words: Pippa's bottom. When Pippa Middleton arrived at Westminster Abbey that day wearing an extremely flattering dress, she was dubbed "Rear of the Year," per Mirror. The maid-of-honor broke a few cardinal fashion rules when she seemingly outshone her sister — and it wasn't because she wore white.
Pippa walked out of the royal Bentley on April 29, 2011 wearing a minimalist and cowl-necked Alexander McQueen dress, which perfectly highlighted her derrière. As the only bridesmaid at the royal affair (one who was also single), it was hard not to look past her behind … particularly as the camera trailed her 52-second ascent to the church. Within just a few hours, social media was abuzz about Pippa's bodacious bottom. Pippa Middleton A** Appreciation Society had popped up on Facebook (it currently has 174,000 followers) and @pippas*ss quickly garnered thousands of Twitter followers, per Mirror. The attention was astronomical and saw Pippa become the most coveted bachelorette in England, per ABC.
But what does the most famous bridesmaid of all time actually think of her iconic gown these days? Would she have chosen a different style if she had foreseen the media buzz? Let's take a look.
Pippa Middleton joked about her bridesmaid dress fitting 'a little too well'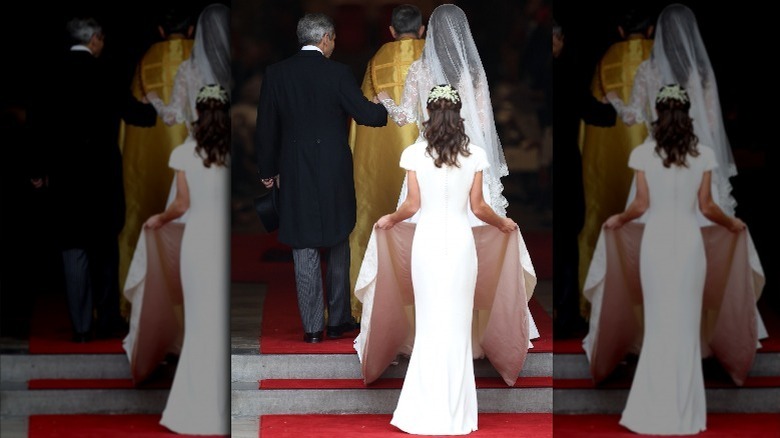 Pippa Middleton's alluring dress spurred a fashion frenzy with women 'round the world hoping to snag a copy, per 9 Honey. But back in 2014, Pippa acknowledged it may have been a bit of a fashion faux pas. During her first television interview, Pippa told Today she found the media's fascination on her behind "embarrassing" and "really difficult," as she hadn't planned on stealing her sister's spotlight. "It was completely unexpected. You know, I think the plan was not really for it to be a significant dress. Really just to sort of blend in with the train," she said.
The former party planner also penned a piece for The Spectator (she's now a regular contributor), where she compared her "Rear of the Year" award to that of previous winners like Kim Kardashian. "I must say that mine — though it has enjoyed fleeting fame — is not comparable," she wrote. "What is it with this American booty culture? It seems to me to be a form of obsession."
While Pippa has apparently been the subject of sexism ever since Kate's wedding day, she has joked about the dress before, per Mirror. Speaking to 400 people at an event in London, Pippa said at the time, she was "glad" the frock fit well, but admitted, "In ­retrospect it fitted a little too well. As I have found out, recognition has its upside, its downside and – you may say – its backside."
Kate Middleton's wedding dressmaker even called Pippa's gown too 'clingy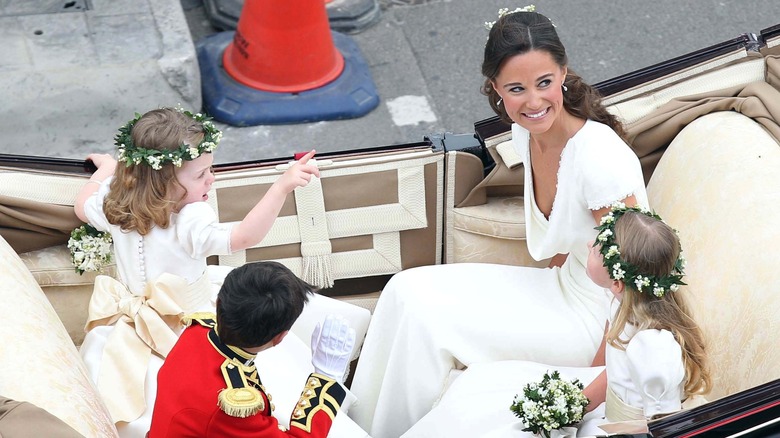 Kate Middleton may not have publicly provided her thoughts on Pippa's gown, but her dressmaker has. Chloe Savage, who helped create Kate's Grace Kelly-esque wedding dress, told Insider she would have "given it a little more room on the butt." Pippa's cinched-waist ivory dress, like Kate's, was designed by Sarah Burton of Alexander McQueen. Savage said, "It's not her fault, nobody's mistake. I would have just given it a bit more room so it wasn't so clingy."
Fashion experts originally predicted Kate would opt for a similar minimalist style, with Tim Gunn telling ABC, "Hearing all the speculation about what Catherine would wear, what people were saying she would wear is exactly what Pippa was wearing, a very classic column." While Gunn suggested the sisters dresses complemented each other, Savage said Pippa upstaged Kate. "It was a beautiful dress, absolutely stunning. But as a dress designer, the aim is to make the bride the star of the show."
Whether or not you agree with Pippa's attire, the question remains as to where this iconic outfit is today. While it may one day be displayed in a museum, apparently it's safely kept in her wardrobe. "I haven't worn it since. But I think I'll just keep it there," Pippa told Today. "I think it's the sort of thing that I'm sure I'll bring out if someone wanted to see it or my children one day want to see it. Then I'll show them."
Source: Read Full Article