Gwen Stefani and Blake Shelton thrilled fans in October when they announced their engagement after five years of dating. But when the Let Me Reintroduce Myself singer said "yes" to the country crooner's proposal, she was kind of still married to Gavin Rossdale.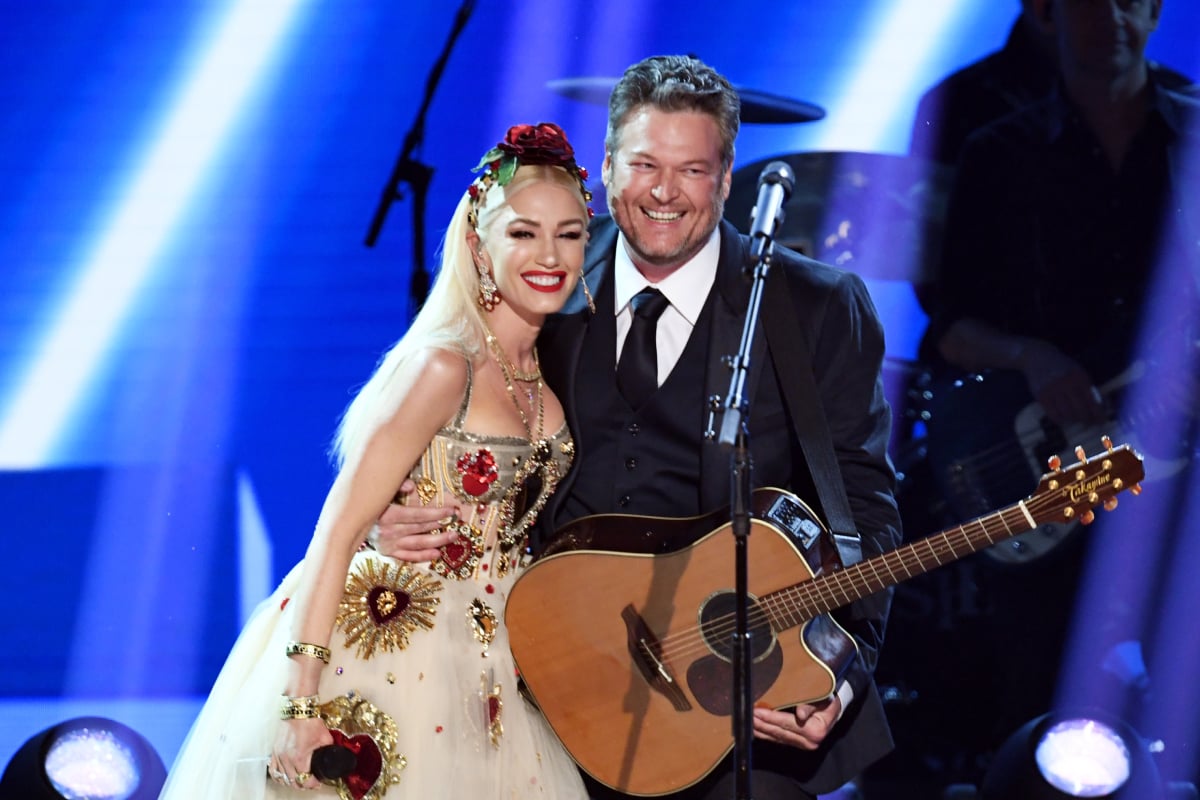 Fans have gotten a few glimpses of Gwen Stefani's massive engagement ring
Since announcing their engagement, both Stefani and Shelton have given a few interviews about the big moment. They both revealed that Shelton kept Stefani's massive diamond engagement ring in his "disgusting" truck for about two weeks until he found the right time to pop the question.
As The Daily Mail reports, the couple was on Shelton's Oklahoma ranch with family and friends when the moment finally arrived. Shelton reportedly gave Stefani an eight-carat ring worth $500,000. And she showed it off for the very first time when the couple shared their big news.
https://www.instagram.com/p/CJz9taHBF_l/
Since then, fans have gotten a few more glimpses of the ring. Stefani recently flashed it on Instagram when she posted a clip of her new music video. She also included a clip of Grace Kelly showing off her ring in the 1956 film High Society.
In the music video clip, Stefani smiles as she holds up her left hand and points to the ring. In the movie clip, Kelly is lying on a sofa and looking at her massive diamond sparkler before wiping it on a cushion.
The 'Hollaback Girl' recently annulled her marriage to Gavin Rossdale
When Shelton proposed to Stefani in October, she was kind of still married to her first husband, Gavin Rossdale. According to Cinema Blend, after she accepted Shelton's proposal, Stefani was able to secure a Catholic annulment of her marriage from the Bush frontman.
In order for the Catholic Church to recognize Stefani's upcoming marriage to Shelton, she had to get approval from the Vatican for the annulment of her first union. The Grammy winner apparently started the annulment process back in March 2019.
https://www.instagram.com/p/CG2tZeonC9m/
The three sons that Stefani and Rossdale share – Kingston, 14, Zuma, 12, and Apollo, 6 – are still considered "legitimate" in the eyes of the church under Canon 1137 in the Code of Canon Law.
Stefani and Rossdale tied the knot in 2002. She filed for divorce in 2015 after nearly 20 years together. They finalized the divorce in 2016.
Meanwhile, this will be Shelton's third marriage. He divorced his first wife, Kaynette Williams, in 2006. Five years later, he tied the knot with Miranda Lambert. They called it quits in 2015, around the same time that Stefani split from Rossdale.
Is Blake Shelton building a wedding chapel?
Shelton and Stefani have not announced a wedding date. But insiders say that Shelton has been hard at work preparing for the upcoming nuptials. The God's Country singer is reportedly building a chapel on his Oklahoma ranch for his wedding to Stefani.
There are a couple of reasons for this. First, the couple needs a secure location away from the paparazzi and unwanted guests. But most importantly, Stefani wants a safe space for her parents.
https://www.instagram.com/p/CE9hkoEjiEe/
When Ryan Seacrest asked Stefani on On Air with Ryan Seacrest if she wanted a big or small wedding, she said that her focus is safety.
"I would say I just want my parents there at this point. My parents wouldn't come to Thanksgiving because they're so scared, so I really would rather it not be a COVID situation," Stefani said. "Like, I would rather not have masks and that kind of thing."
Source: Read Full Article