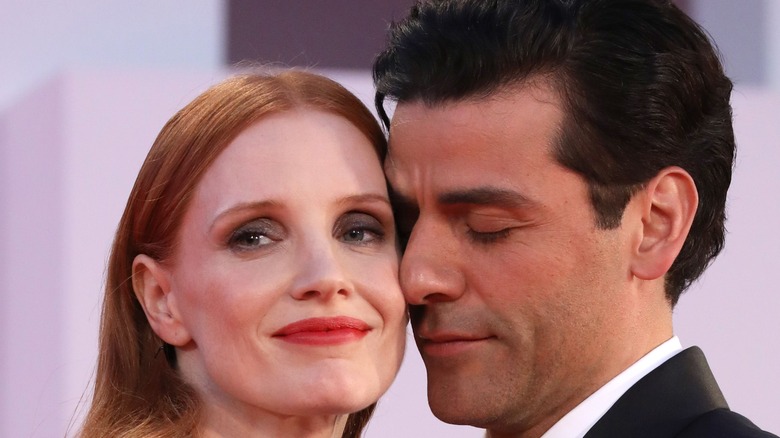 Elisabetta A. Villa/Getty Images
By Olivia Jakiel/Sept. 7, 2021 1:46 pm EDT
Jessica Chaistain and Oscar Isaac are two of Hollywood's hottest actors that need no introduction, but we'll give you one anyway. Chastain got her big break after appearing in 2011's "The Help" alongside Emma Stone, Viola Davis, and Octavia Spencer, then landed starring roles in blockbuster hits like "Zero Dark Thirty," "Interstellar," "The Martian," "The Zookeeper's Wife, and "It Chapter Two" (via IMDb).
Oscar Isaac, who took home the Golden Globe for Best Actor in a Television Motion Picture for his starring role in 2016's "Show Me A Hero" (via Golden Globes), has also been steadily climbing the ranks in Hollywood ever since his 2006 breakout role as Joseph in "The Nativity Story" (via IMDb). The 42-year-old actor has appeared in a multitude of popular films over the years, including "Drive" opposite Ryan Gosling, and three "Star Wars" films.
On top of their already-impressive resumes, Chastain and Isaac star in HBO's highly anticipated series, "Scenes From a Marriage," which is based on Ingmar Bergman's 1970s Swedish series of the same name. While the mini-series has been generating all sorts of buzz, the internet was thrown into a serious tailspin after Isaac and Chastain made a red carpet appearance at the series' premiere at the Venice Film Festival, which had social media users buzzing about the actors' undeniable chemistry.
Twitter went wild after seeing Jessica Chastain and Oscar Isaac get close on the red carpet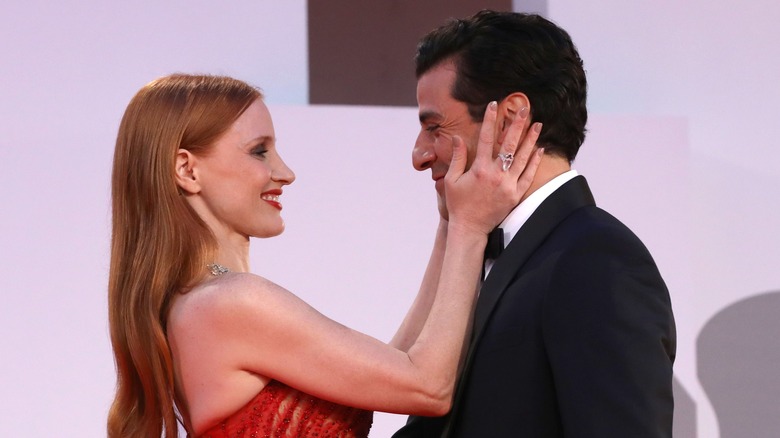 When Jessica Chastain and Oscar Isaac took the red carpet at the Venice Film Festival to promote the premiere of their upcoming HBO mini-series, "Scenes From a Marriage," social media users instantly noticed the pair's undeniable chemistry.
"I wish I had words for this but I really do not," one Twitter user wrote alongside a slow-motion video of Isaac seemingly sniffing Chastain's armpit andkissing her arm while giving her a smolder that could seriously melt all the ice caps in the arctic. Chastain then playfully grabs Isaac's face in both of her hands while the two laugh on the red carpet together, which fueled even more comments from social media users everywhere.
"God bless the person who decided to slo-mo this video of Oscar Isaac and Jessica Chastain in Venice. The tender arm stroke, eyebrow raise … they are giving us the red carpet chemistry that we didn't even [realize] we needed," one Twitter user pointed out, while another added, "This is 'lifelong best friends who never realize they are actually in love' vibes."
Jessica Chastain and Oscar Isaac are both married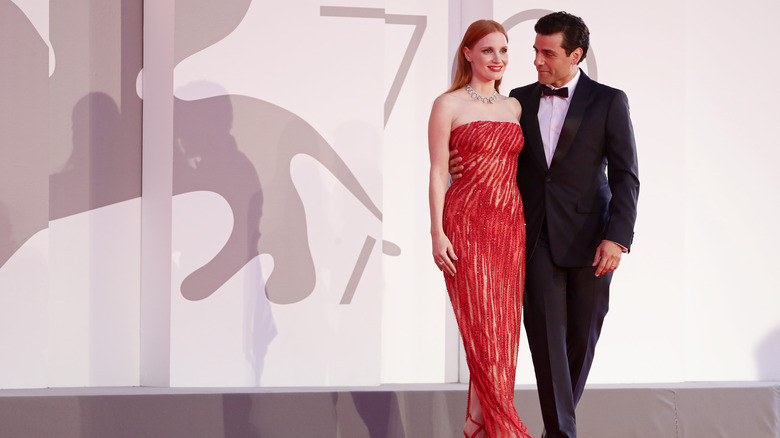 While Jessica Chastain and Oscar Isaac's chemistry is very clear, social media users couldn't help but point out that both actors are married — Chastain wed fashion exec Gian Luca Passi de Preposulo in Italy in 2017 (via Vogue), and Isaac tied the knot with screenwriter/director and director Elvira Lind the same year (via Esquire). However, just because the actors' red carpet and on-screen chemistry is palpable doesn't mean there's anything more going on with the pair, as both Isaac and Chastain have been close friends for years, and even starred in 2014's "A Most Violent Year" together.
"We've been friends a long time. I was trying to see him in a different way," Chastain said of her longtime friendship with Isaac in an interview with TV Insider about their "Scenes From a Marriage" characters. "I got a book, like 'All About Us,' with questions like, 'What's your favorite memory of the wedding?' I filled it in as Mira [her character], Oscar as Jonathan [his character]. I even changed Oscar's name in my phone to Jonathan."
In a recent interview with Dujour, Isaac had nothing but nice things to say about his co-star, telling the outlet, "She's someone that has always inspired me and brought the best out of me, both as an actor and a person. Acting with her is effortless. Nothing needs to be planned in advance. As long as I'm present, I know anything can happen because there is total trust."
Social media users couldn't get enough of Jessica Chastain and Oscar Isaac's red carpet appearance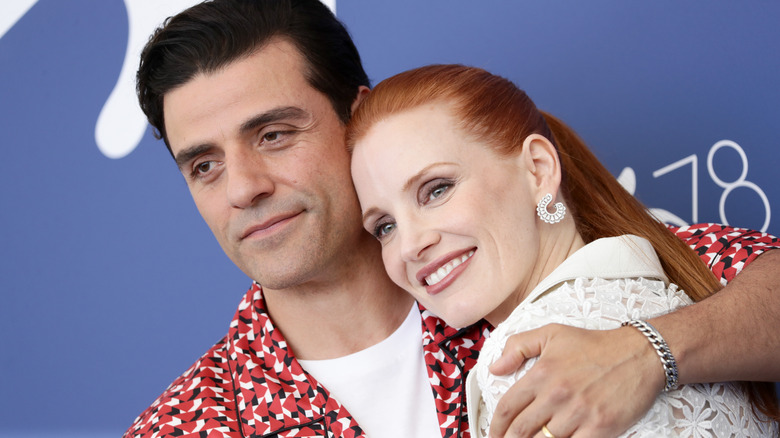 While some social media users joked about Jessica Chastain and Oscar Isaac's respective spouses responding to their steamy red carpet appearance, others pointed out how refreshing it was to see the co-stars and longtime friends interact together at the Venice Film Festival. "Nothing beats when co-stars are clearly good friends and are just having a fun time together while promoting their work. Jessica and Oscar know they are selling #ScenesFromAMarriage perfectly," one Twitter user wrote, adding, "What I love most is the fact Oscar Issac's wife Elvira Lind is right there chuckling at the show he is putting on with Jessica."
Another social media user compared Isaac and Chastain's red carpet chemistry to that of Bradley Cooper and Lady Gaga's when they were promoting "A Star Is Born" in 2018. "I actually don't care that the [Oscar Isaac] and [Jessica Chastain] stuff is a ploy," they said. "They clearly took lessons from the [Bradley Cooper] and [Lady Gaga] school of putting on a SHOW for promotional/awards purposes and it's working on me! i'm have [sic] a blast over here!"
Source: Read Full Article