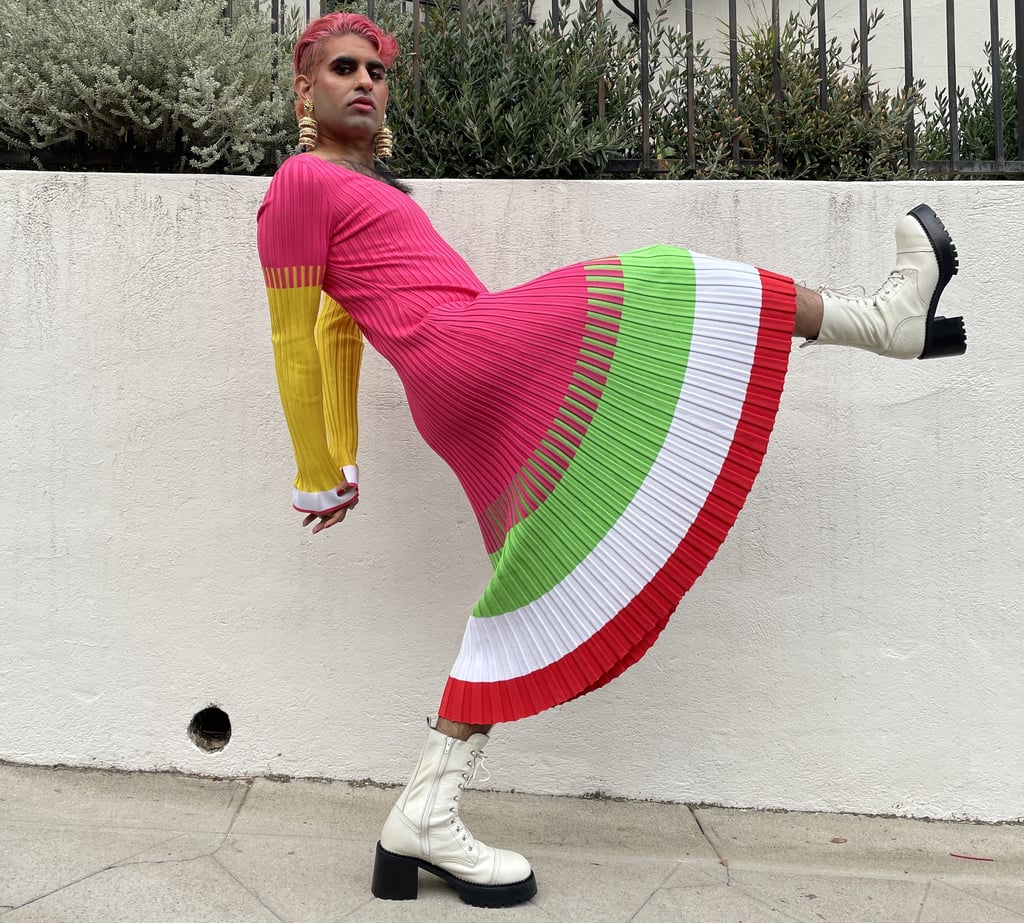 How #DeGenderFashion Creator ALOK Got Ready For Prabal Gurung's Virtual Fashion Week

Prabal Gurung is one of the many fashion designers who decided to release his fall 2021 collection digitally for New York Fashion Week, and gender non-conforming writer and performer ALOK was right there in the "virtual front row." ALOK is the creator of the #DeGenderFashion movement and found it important to participate in Prabal's event, even though it wasn't in person. "I'm keeping it minimal this year: Prabal is the only [Fashion Week presentation]. As a fellow queer South Asian, I've always seen myself in Prabal's approach to fabric and silhouettes. I feel such a deep affinity and pride in his unique contribution to the fashion world," ALOK told POPSUGAR.
Prabal's collection was titled "In the Mood For Love," and all of its boldness and whimsy would be empowering for anyone to see. There are touches of '80s glamour, poufy sleeves, and polka-dots. Hot pink is the color of the moment for Prabal, and the symbol is the rose, handpicked from the corner bodega store and instantly inspiring the designer as the foundation for the entire collection. There's an unwavering sense of perseverance in the lookbook images, and we see that same taste for creativity balanced with realness in ALOK's own approach to dressing. It makes sense that he was part of the "virtual front row."
"Gender non-conforming people like me have always been on the frontlines of style and fashion. Unfortunately, we are so rarely included in mainstream fashion. It means a lot that Prabal has continually supported me and so many of my trans and gender non-conforming peers in an industry that is often so inhospitable to us," ALOK said, sharing that they styled two looks for "Prabal day," working with makeup artist Leibi Carias on the beauty details.
"One look is whimsical, one look is defiant. These are two parts of me that have been conjoined this pandemic: on the one hand feeling this deep, ethereal reflection. On the other, this restless, rogue desire to roam free," ALOK explained. Ahead, hear more from ALOK about their experience and relationship with fashion, see both Prabal looks they created, and then take in some bright spots from Prabal's pre-fall/fall 2021 love letter to New York, just like ALOK was sure to do just as passionately from home.
Source: Read Full Article