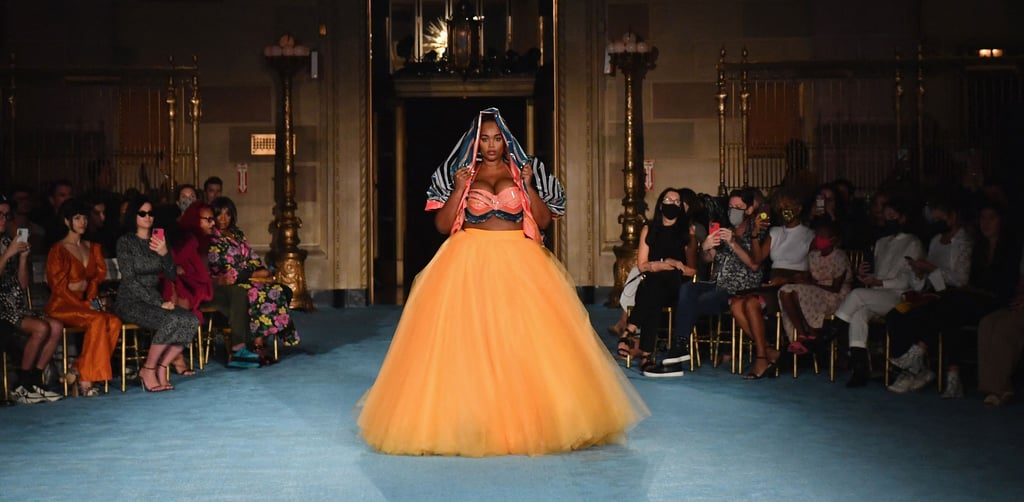 Ultimately, Curves Are the Star of Christian Siriano's Spring Runway

For his 40th collection, Christian Siriano kicked off the spring 2022 shows at New York Fashion Week delivering the level of runway we hoped for. The designer brought his optimistic glam when we needed it most, giving us neon hues, denim, dramatic evening wear, and a catwalk filled with beautifully diverse models to mark a new season — and, maybe, a new beginning for fashion. If looking to 2021 meant reimagining the future of fashion, designing for 2022 is bringing it to fruition, and who better to lead the charge than Siriano, a champion of diversity and the talent behind looks we've loved from Beyoncé, Zendaya, Amanda Gorman, and more of the world's most impressive women.
The spring '22 show was, unsurprisingly, a celebrity draw, attracting names like longtime muse Coco Rocha and Lil' Kim, who sat front row in a custom rosette-covered Siriano creation to support his collection. On the runway, Precious Lee opened the show, joined by Candice Huffine and an ethnically and size-diverse cast of models that stomped the runway as Marina serenaded the crowd, and put bright color, sexy, see-through cocktail looks, sharp suiting — and curves — at the forefront. Siriano's vision for spring is a world where we are dressing up for everything. Ballgowns featured as prominently as cocktail sheaths, and every accoutrement, from fringe trim to sheer lace, hats, and capes are the kind of details that are begging to be looked at – read: not the kind you leave at home. In fact, if ever there was an outfit in need of a special occasion, it's the show closer on Precious Lee — a full tangerine tulle skirt paired with a multi-colored bra top and scarf. Thankfully, award season's coming up next, because that look is primed for a red carpet.
Read on for a closer look at the Christian Siriano spring '22 runway right here.
Source: Read Full Article