THE best gas barbecues are ready to grill whenever you are, and there's no need to faff about with lighting fires.
But it can be confusing with so many different brands on the market – so we've put together a guide to help you pick the right one for you.
What do I need to know before buying a gas barbecue?
Gas barbecues tend to be more expensive than charcoal ones, with prices ranging from around £100 to more than £4,000, depending on the size and the number of features it has.
But when it comes to hassle-free outdoor cooking, nothing beats it.
If you plan on becoming a barbie regular then it's worth investing a bit more in a model that will last you longer and comes with a longer warranty.
Most models have two to four burners, although some have as many as six – a good option if you're feeding a large group.
Bigger ones will have shelves on the side, which is handy for storing tools and sauces.
Some also come with side burners – these aren't essential but are certainly helpful if you want to cook other stuff to go with your grilled foods.
Whichever model you go for, make sure you know what the cleaning process is – more on that below.
Meanwhile, here are some of the most popular gas barbecues.
We tested: Weber Genesis E-335 GBS BBQ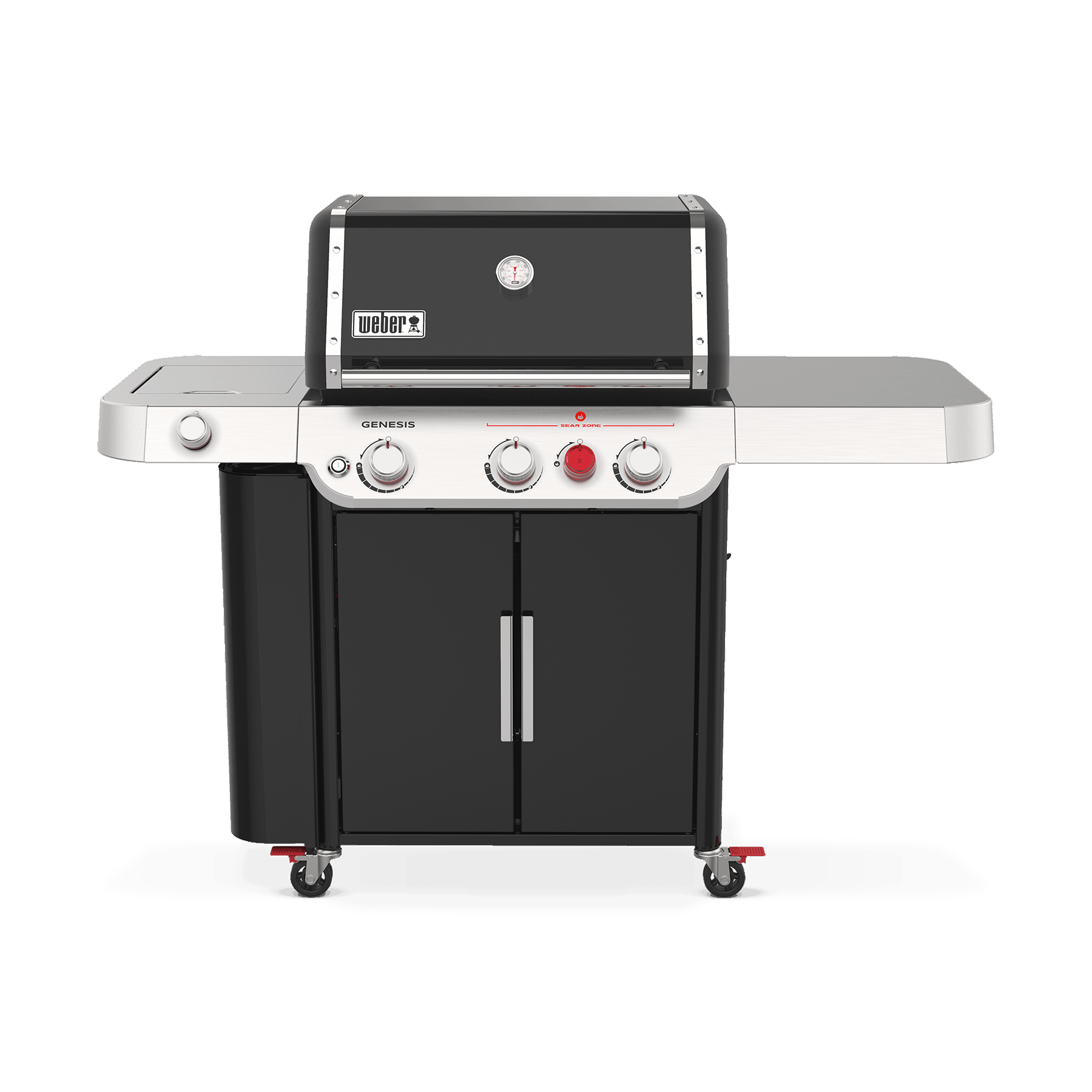 Weber Genesis E-335 Gas Barbecue, £1,699 from Weber – buy here
It's extremely easy to baulk at the price of the new Weber Genesis — you could probably take a holiday for the same price — but it's hard to overstate just how good this barbecue is.
Of course, you probably are paying a portion of the £1,699 price tag for the brand name, but that's because the Weber logo comes with both pedigree and an assurance of quality: and if you do still have concerns, you'll be calmed by the knowledge that some of its components come with a 12-year warranty.
You can tell its sturdiness just by its heft: it weighs in at around 70 kilograms, thanks to a total cooking area of more than 5m2 and an abundance of stainless steel, and it feels extremely well built and solid, even compared to other wildly expensive barbecues. You feel a sense of satisfaction and approval doing something as simple as lifting up the lid. Its size and weight do mean that it's a bit of a pain to move around, but it comes with four wheels and excellent-quality brakes, meaning that portability is as swift and safe as it can be.
There are little things, too, that make it a well-designed bit of kit: the drip tray at the bottom slides out completely, making it easy to empty and clean, and the gas canister sits inside the unit, making it more compact and neat (although it does take up a decent amount of space).
As expected for the price, it also comes with every bell and whistles you can imagine, including a Bluetooth function that links to the Weber app, allowing you to keep an eye on the temperature of your food — handy if you're cooking a bigger piece of meat such as a tomahawk steak. You can also keep an eye on the temperature of the BBQ using the bang-on digital thermometer, although it needs to be plugged in for this to work.
It also comes with Weber's largest and hottest Sear Zone, and we noticed a definite improvement in the quality of the food compared to other barbecues we've tried, with better char and colour. That's also thanks to main burners that have a massive 11.4kw of energy, as well as great temperature adjustability and technology that minimises the number of flare-ups, which negatively affect the taste of your food.
You're also not limited to grilling: you can use the side burner to saute veg or warm sauces, and it's compatible with Weber's Gourmet BBQ System, which allows you to cook on it using a whole host of kitchenware from woks to dutch ovens to rotisseries. Realistically, in the summer (and in the winter when it's dry, thanks to a light for night-time grilling), the Weber Genesis could be your main method of cooking.
Source: Read Full Article