Kathryn Dennis may be ready to take her romance to the next level. The Southern Charm star has been dating Hunter Price since New Year's Eve and recently admitted that she has fallen in love with the America's Got Talent contestant. But is Dennis, who is in the middle of a nasty custody battle with ex Thomas Ravenel, ready to tie the knot?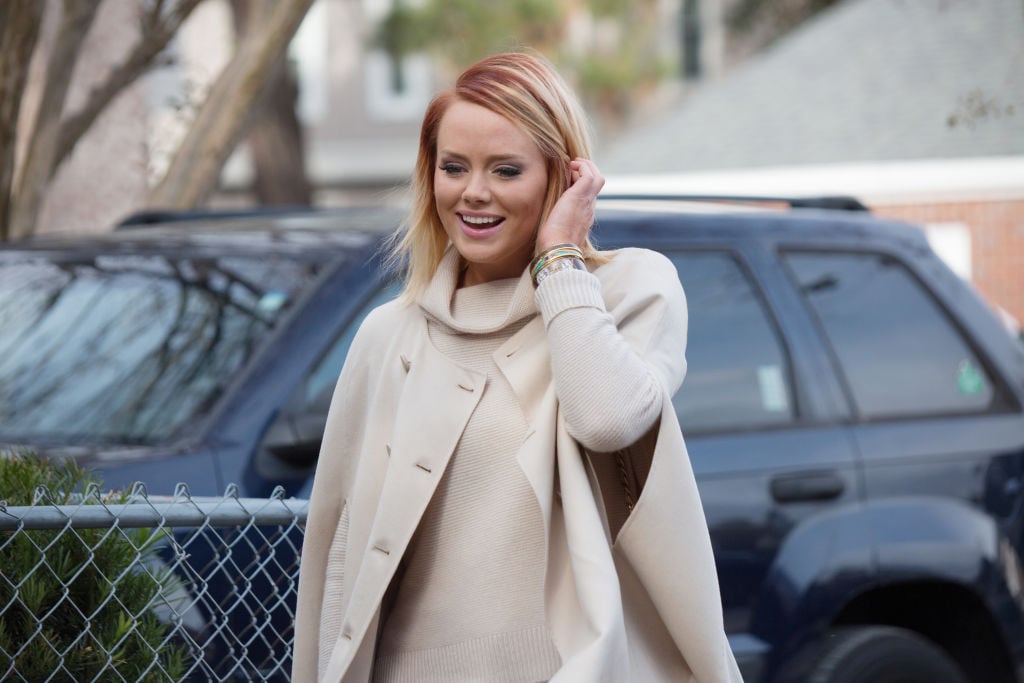 Dennis falls in love
In a recent interview, the 27-year-old reality star admitted that she fell in love with Price the moment she met him. According to ET Online, the two originally met at a dinner party in Nashville and were introduced by mutual friends.
Upon meeting Price, Dennis realized that he was the perfectmatch because he checked off all of her boxes. Not only was he a hard worker,but he also shared her odd sense of humor.
"I never believed in love at first sight, but if I couldimagine what it feels like, this would be it," Dennis shared.
Dennis added that she feels very safe with Price, even whenshe is at her most vulnerable. She also revealed that she met up with her Southern Charm co-stars Craig Conoverand Austen Kroll shortly after meeting Price.
Conover and Kroll immediately knew that Dennis was in love,especially after she admitted that she was "going to marry" Price. Fans mayrecognize Price for starring on Season 13 of America's Got Talent.
Inside Dennis and Price's long-distance relationship
The only hiccup in Dennis' new romance is that Price lives in a completely different state. Price is a resident of Nashville, Tennessee, while Dennis spends most of her time in Charleston, South Carolina. Although there are hundreds of miles between them, the Southern Charm star does not think the distance is a big problem.
Although they cannot spend every day together, Dennis makesfrequent trips to Nashville to spend time with her boyfriend. Fortunately,Dennis enjoys spending time in Nashville and does not mind the mileage.
Although Dennis is excited about her new romance, fans willwatch her date a different man in Season 6 of Southern Charm. During production for the new season, Dennis was seeinga man named Joe Abruzzo, who has made a name for himself as a politician inFlorida.
The relationship did not last long, and some of Dennis'co-stars felt like Abruzzo reminded them of her ex, Ravenel. Abruzzo confirmedthat he dated Dennis, though he claims to have never met any of her cast mates.
Price meets Ravenel for the first time
With their romance heating up, Price has met Dennis' formerboyfriend and former Southern Charm star Ravenel. Dennis recently openedup about the encounter and admitted that it was one the most awkward moments ofher life.
Ravenel apparently walked up to Price and acted as if he didnot know him, which only made things even more uncomfortable. The two met forthe birthday of Dennis' oldest child, Kensington.
While Dennis and Ravenel have been fighting a bitter custodywar in court for the past few months, they recently set aside their differencesto attend their daughter's pre-school graduation. The pair even posed forphotos with each other and later posted the images on social media. Ravenel hasnot commented on his meeting with Price.
Ravenel faces upcoming trial
Although Ravenel and Dennis have seemingly made amends, heis currently preparing to answer multiple charges of sexual assault. Ravenel wasaccused of sexually assaulting a nanny inside of his home in Charleston.
The disgraced reality star, who was booted from the seriesfollowing the charges, has denied any wrongdoing and is looking to prove hisinnocence in court. Last summer, Ravenel released a statement confirming hisexit from Southern Charm. He alsoblasted the series for taking advantage of him in a time of need.
Ravenel and Dennis started dating when she was only 21 yearsold. He was 56 years old at the time and went on to have two children withDennis. In 2016, Dennis lost custody of her children after failing a drug test.She subsequently checked into rehab and later won back joint custody.
New episodes of SouthernCharm air Wednesday nights on Bravo.
Source: Read Full Article