The ongoing drama saga that is Dale Moss and Clare Crawley's love story just added a new character: Bachelor in Paradise'sAbigail Heringer.
ICYMI, earlier this week, news broke that Dale and Clare had broken up again—and that, this time, it was over "for good." (If you need a refresher on the many ups and downs of Clare and Dale's 'ship, we have a detailed timeline of evvvvverything that's gone down between them since they blew up The Bachelorette with their love.)
At the time, a source close to the pair told Page Six that Clare and Dale had ended things because they couldn't agree on some big, fundamental stuff, like where to live and when to have kids. The plot thickened a few days later, however, when Clare shared a very cryptic Instagram post referencing the split—and subtly tagged Abigail in it.
https://www.instagram.com/p/CUdSmCchAk3
The post included a picture of Clare and her mom, who is currently in hospice care, holding hands and the following caption:
Abigail quickly untagged herself from the post, but the red flags were already all the way up around Bachelor Nation. The mystery of "Why Did Clare Tag Abigail in That Cryptic Instagram Post" was not so mysterious to people who had seen a post on IG gossip account Deuxmoi, though, since, according to Us Weekly, Clare's post came just a couple of hours after Deuxmoi shared an anonymous tip about a potentially scandalous Bachelor Nation hookup.
"A Bachelor favorite hooked up with a Bachelor Nation recent "winner" who *may or may not have been* on a break earlier this year," according to screenshots of the post shared on Reddit. "One of them is on Paradise right now but producers won't mess up her good girl edit…"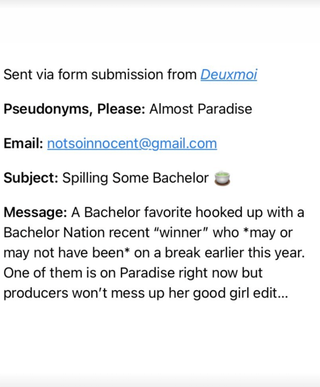 A followup post (also screen-grabbed and shared on Reddit), added the following commentary:
"Anon but this is true — one of my girlfriends is really good friends with one of the girls from Matt's season and it's been on the low for a while now but now that they are breaking up for good it will be more known 🤷‍♀️."
The Deuxmoi blind items, paired with Clare's decision to tag Abigail in the cryptic post about her relationship, led many to conclude that (or at least wonder if) Abigail and Dale *may* have hooked up.
According to Us Weekly, one source said that Dale and Abigail had indeed "hooked up" at one point long before her stint on BiP and that Abigail had been open with her friends about the fling because she "was under the impression that he and Clare weren't serious" anymore. The Us report added that the same source said that Clare "found out about the alleged hookup from the internet rumors that day and tagged her in her photo to show everyone that she knew what had happened."
A second source close to the situation had a different take though, telling Us that Dale and Abigail met at a flag football game in NYC that a lot of Bachelor Nation alums were at.
"Everyone went to a bar after, they did not sleep together. He's never cheated on Clare," the source said. "They never kissed or had sex. Dale is friends with Abigail."
So far, neither Dale nor Abigail seem to have commented on the rumors, FWIW.
Source: Read Full Article