The Below Deck Mediterranean Season 6 trailer teases that a crew member's injury was so serious, Captain Sandy Yawn lashes out at bosun Malia White for not reporting it sooner.
A crew member hikes up his shorts to show a hideous bruise, the size of a basketball. "That's an incident report Malia," Yawn says to White. But when White says she is not a chief officer, Yawn becomes enraged. "I don't give a f**k!" Yawn shouts. "You should have come to me that he was hurt!" The crew member in question appears to be deckhand Lloyd Spencer. He is seen vomiting overboard as Yawn says, "His blood pressure is really high, he has chest pains. He needs to go to the hospital."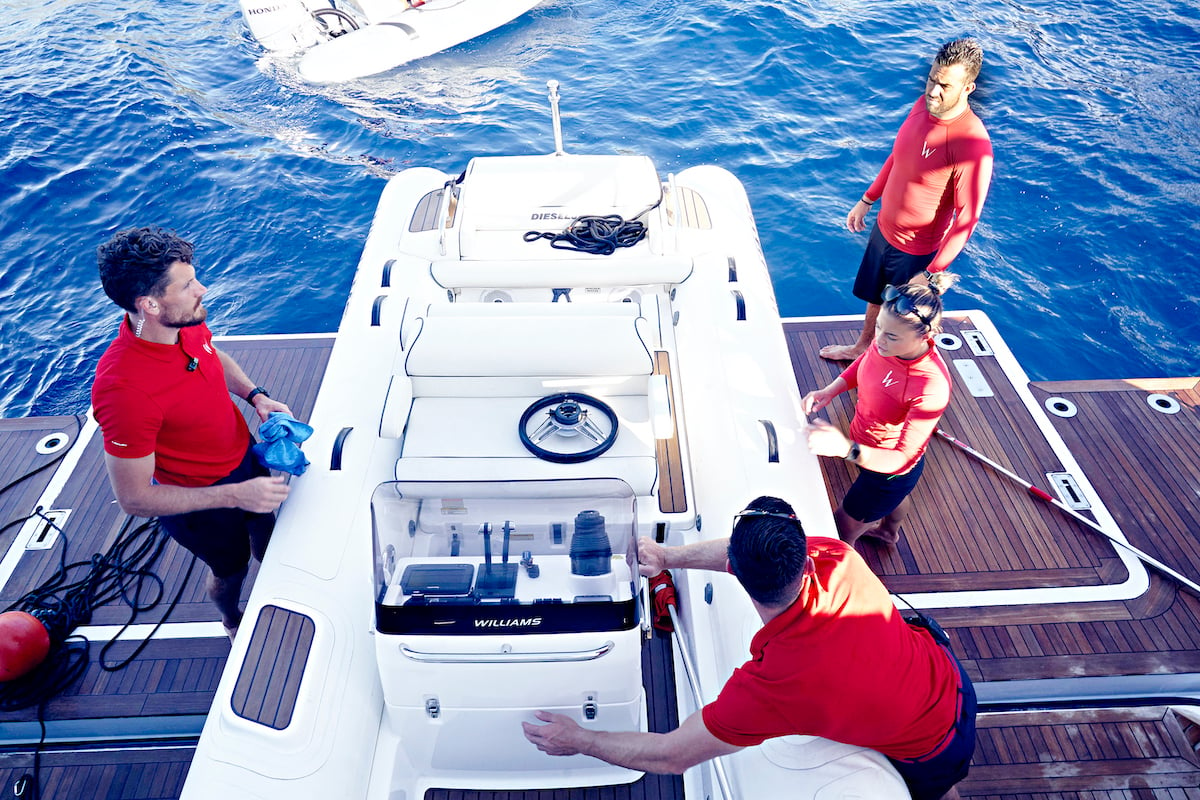 'Below Deck' crew members have sustained serious injuries in the past
The trailer does not make it clear if the emergency was related to yachting, but White is seen on deck during a horrific storm. Not to mention there is a kitchen fire tease. But the trailer does remind viewers that yachting can be dangerous and crew injuries can occur.
Quite a few Below Deck crew members have experienced an illness and an injury onboard. Deckhand Nico Scholly from Below Deck dislocated his shoulder after leaping into a tender. And Bruno Duarte sustained a nasty gash on his leg when he helped to deploy the slide.
"Which was very painful because I almost passed out because it was so it was very, very, very painful," he recounted on the Behind the Velvet Rope with David Yontef podcast. "I went along to my cabin and I called the 'big brother camera' because the camera was there. And I remember like the camera turning to me, focusing in. And I was trying to put, the disinfecting water on my leg." Adding, "I did the other charter like that. I was running with one leg only."
Another limb injury occurred when a cut on deckhand Brian de Saint Pern's leg became so infected, he had to be hospitalized. "I actually went to the hospital and that's when the doctor said to me, he's like, 'Listen, your leg is really, really bad. You have a bad infection,'" de Saint Pern said on the Below Deck After Show. "They literally cut a whole thing out of my knee," he continued. "I was still awake and they were literally pulling out tissue." 
'Below Deck' Season 6 had a near-death experience
One harrowing experience almost had a tragic end when a rope wrapped around deckhand Ashton Pienaar's ankle dragging him into the water. Deckhand Rhylee Gerber was standing next to Pienaar and she's seen trying to grab for him. He was out of reach so she immediately called "man overboard" into her radio.
The crew was seen scrambling to save Pienaar, but it was a camera operator who ultimately freed Pienaar's leg from the rope. Pienaar was able to swim to the tender being towed behind the yacht and sustained only a minor injury to his ankle. But Captain Lee Rosbach was shaken and haunted with the thought Pienaar could have easily died.
"We weren't from 30 seconds of him dying and I have to call his parents and tell them their son is dead," Rosbach said in a confessional. "And I'm responsible. I don't know how I'd deal with that. I have kids. And I don't know how I'd make that call."
Buckle up. Below Deck Mediterranean premieres Monday, June 28 at 9 p.m. on Bravo.
Source: Read Full Article