The post-apocalyptic theme really helped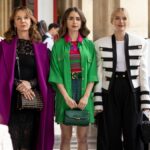 So seriously, no one noticed that Prince Harry was out and about in Toronto enjoying Halloween?
"No. It was a post-apocalypse theme so we had all of this very bizarre costuming on and we were able to just sort of have one final fun night out," Markle told DeGeneres, with a laugh.
Readers can watch this portion of Markle's "Ellen" interview above and another sneak peek, where she talks about how her children's book "The Bench" began as a poem for Prince Harry, below.
More to come…
Source: Read Full Article