Born in London, Kirby Howell-Baptiste left her native U.K. for the bright lights of Hollywood after dropping out of drama school. According to her WarnerMedia bio, she quickly established herself as a highly regarded comedic actor stateside, appearing in Comedy Central's twisted "Comedy Bang! Bang!" and then landing a role as a series regular on the short-lived ABC sitcom "Downward Dog." From there, Howell-Baptiste suddenly exploded onto the television scene, appearing in a string of critically-acclaimed TV series: the Netflix rom-com "Love," NBC afterlife comedy "The Good Place," and HBO hitman hit "Barry," as well as the revivals of "Veronica Mars" and "Killing Eve."
The actor's other notable roles have included the series "Why Women Kill" and the animated series "Infinity Train" in which she lent her voice. During 2021 alone, in fact, she appeared in Disney's heavily-hyped "Cruella" and co-starred alongside Kristen Bell in the big-screen comedy "Queenpins." She may, indeed, be the "secret weapon" in some of critics' fave TV shows (via W Magazine), but how much do fans really know about this talented British thespian? Read on and learn all there is to know about Kirby Howell-Baptiste.
Kirby Howell-Baptiste's breakthrough role came from the creator of Desperate Housewives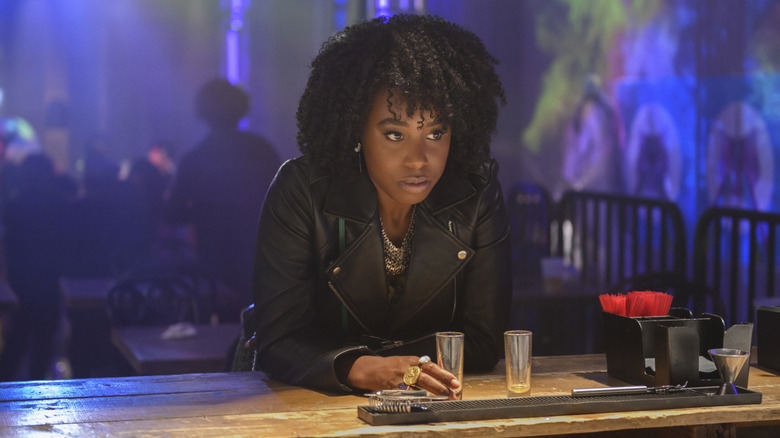 After years of attention-grabbing supporting roles, 2019 was the year that Kirby Howell-Baptiste finally landed her very first starring role. As The Hollywood Reporter recounted, she was cast in the debut season of "Why Women Kill" from "Desperate Housewives" creator Marc Cherry. In the series, Howell-Baptiste is featured in one of three stories about women who are driven to murder.
At the time, Cherry was bullish on Howell-Baptiste's future success. In fact, he compared her to Eva Longoria, who was, likewise, relatively unknown when Cherry cast her in "Desperate Housewives" and propelled her to major stardom. "Whether it's through this show or another one, Kirby is about to become a very big deal," Cherry presciently declared to the publication.
Meanwhile, Howell-Baptiste was blunt in her assessment of how much Hollywood's increasing focus on diversity contributed to her attaining her first starring role. "Casting is changing, and what I'm doing now is proof of that," she told The Hollywood Reporter. "Ten years ago, 'Why Women Kill' would not have looked like this." This was true both in terms of her casting and the character she played, described by Variety as "a fiercely intelligent, kick-ass woman, a lawyer" who is also "upfront about being bisexual" and in "an open marriage" — certainly not the type of female protagonist that had typically been depicted on television.
Kirby Howell-Baptiste's attempt at a road trip took a disastrous turn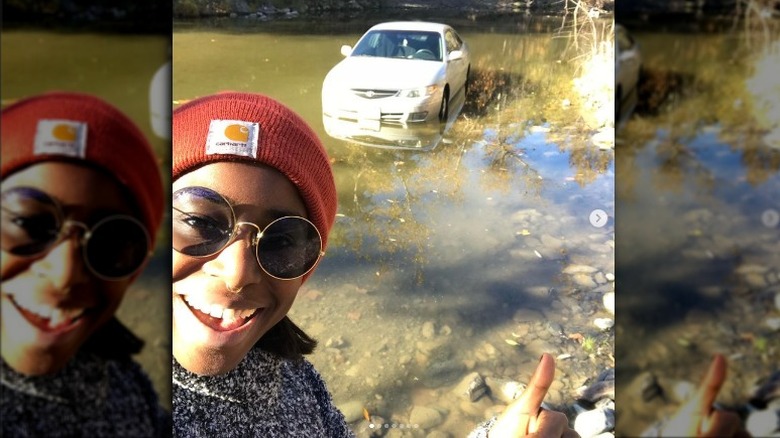 Kirby Howell-Baptiste's adventurous spirit was on display in an anecdote she shared during a 2021 appearance on "Jimmy Kimmel Live." As Howell-Baptiste told Kimmel, she and a friend embarked on a road trip along the California coast, something she'd never done before but decided to undertake because it felt "quintessentially American and Californian." Driving solo for her return, she was in search of Hearst Castle when a rock slide caused traffic to be "diverted through a forest," at which point she realized she was running low on gas.
As she drove, she found herself "off-road," with no cell service and nearly no fuel in the tank of her 2001 Toyota Solara. She then realized that somewhere along the line she'd made a wrong turn that led her onto a military firing range — all while Google Maps told her she was on the right track. Running on fumes, she came to a creek. "In my mind I see tire tracks on the other side, so I'm like, 'it can't be that deep,'" she recalled. 
As she drove across the creek, her car suddenly stopped "dead in the water" as "water starts flooding into my car." Revealing she wound up having to be helicoptered out while the car was towed, she admitted she'd learned a very important lesson. "I have never had a tank … that has not been full since," she declared.
Kirby Howell-Baptiste's Sandman casting was crazy controversial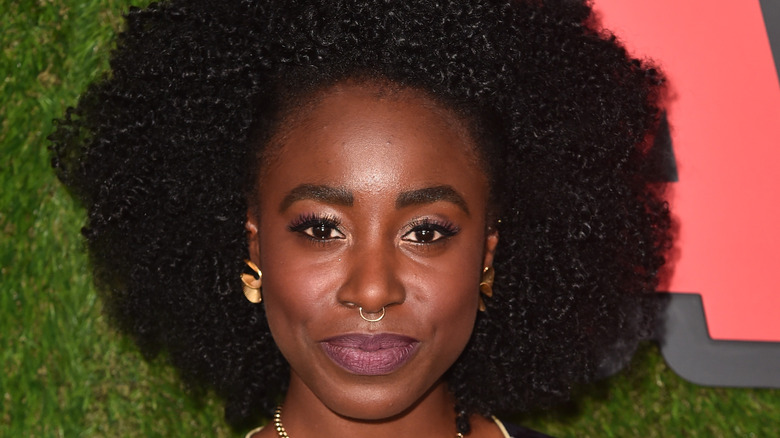 Fans of Neil Gaiman's critically-acclaimed "The Sandman" have been waiting years to see the surreal, philosophical, and downright trippy story of god-like beings known as the Endless come to the screen. Following news that the famed fantasy author would be adapting his characters for a Netflix series, casting news was announced. That's when it was revealed that Kirby Howell-Baptiste was tapped to play the provocative role of Death, older sister of the titular Sandman, a.k.a. Dream (played in the series by Tom Sturridge). Writing about the casting process for Netflix, Gaiman admitted the role of Death was "significantly harder" to cast than he first envisioned, claiming they'd seen "hundreds" of women prior to Howell-Baptiste's audition. It was only after seeing her in action, he said, that "we knew we had our Death."
Controversy ensued, however, when purists objected to the Black actress cast as a character depicted as white in the original comics. While Howell-Baptiste didn't comment publicly about the fan brouhaha, Gaiman definitely did. "If you think the Endless have any specific human race or form, you've missed something in 'Sandman,'" Gaiman declared via Twitter, doubling down in a follow-up. "I always thought that people loved Death for who she was. The person that I wrote," he added. "I'm astonished to find that, for some people, what they thought she was, was a white woman, and just a white woman."
Kirby Howell-Baptiste is a fashion fanatic with a flair for the dramatic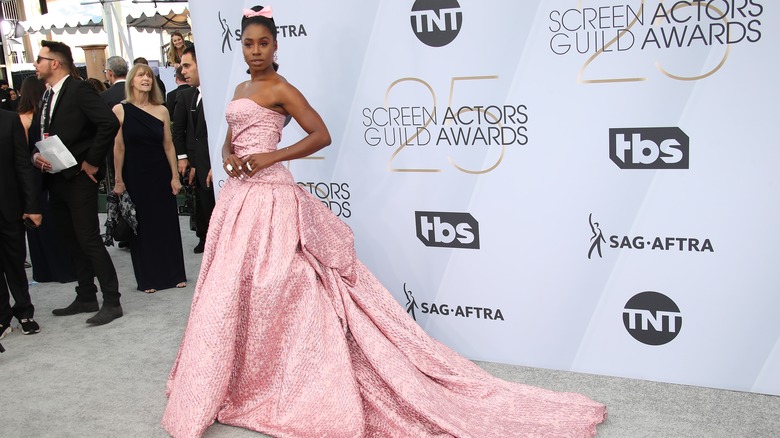 Kirby Howell-Baptiste has rocked her fair share of red carpets over the years. As she explained in an interview with Who What Wear, she'll always favor bold and risky over safe and boring. "You know, when you see those best-dressed and worst-dressed lists, they mean absolutely nothing to me," she declared. 
She described her own unique fashion philosophy by recalling a RuPaul quote from an episode of "RuPaul's Drag Race." "I remember when I first heard RuPaul say on 'Drag Race,' 'We're all born naked, and the rest is drag,' and to me, that's always how I've seen my wardrobe. It's dress-up," she said. Clothing, she added, doesn't have to be costly — "the majority of my things are from thrift stores," she noted — but simply a means to "outwardly express what's inside."
Describing her experience working with stylists Wayman + Micah (known for dressing such stars as Tessa Thompson and Regina King), Howell-Baptiste explained that they're prone to push the envelope with her because "they understand I am someone who would like to take risks, and I like wearing something that is edgy and fun or, most of the time, just extremely dramatic," she said. "When we go to fittings, I'm like, 'You know I love drama. Let's make a statement.' And they are here for it."
Kirby Howell-Baptiste simultaneously appeared in three critically-acclaimed TV shows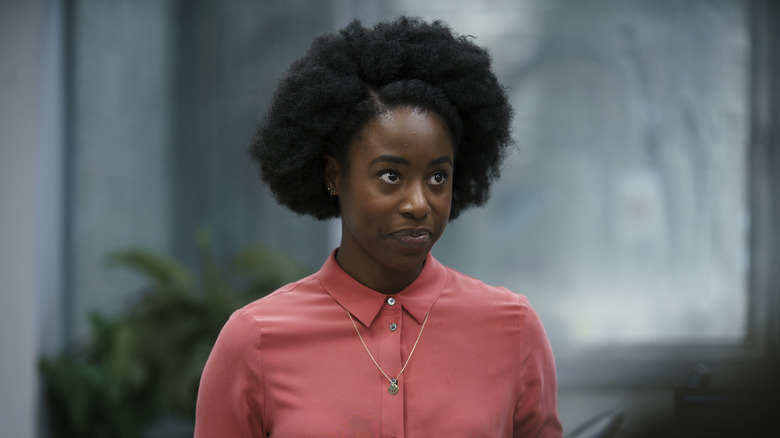 Kirby Howell-Baptiste is one of those actors who appears familiar to TV viewers, simply due to the sheer volume of her work. She's also been cast in some of television's most critically-acclaimed projects. Among her many screen credits, three stand out: "Barry," "Killing Eve," and "The Good Place." In fact, they've received a cumulative total of 62 Emmy nominations — an impressive feat especially considering they air within the same time frame.
Howell-Baptiste's run of TV work was so impressive, in fact, that magazines begin writing about her takeover of the tube. W Magazine even described her as "television's secret weapon." Her sudden ubiquity on American television, as she insisted to W Magazine, wasn't intentional. "It's been three years of work that all kind of came out at once," she said. "I'm actually quite selective about the jobs that I pick but it just so happens that these things hit really hard in a very small window of time." However, she told Entertainment Weekly that managing to be a part of those shows represents "years and years of hard work, rejection, and gritting your teeth that has come before the final product, which is getting to be on cool shows!"
Appearing in three critically-lauded series, she explained, was simply the culmination of her goals. "I just want to keep working on good things," she told Gossamer. "That's always been my goal."
This is the 'anarchist' way Kirby Howell-Baptiste earned her SAG-AFTRA card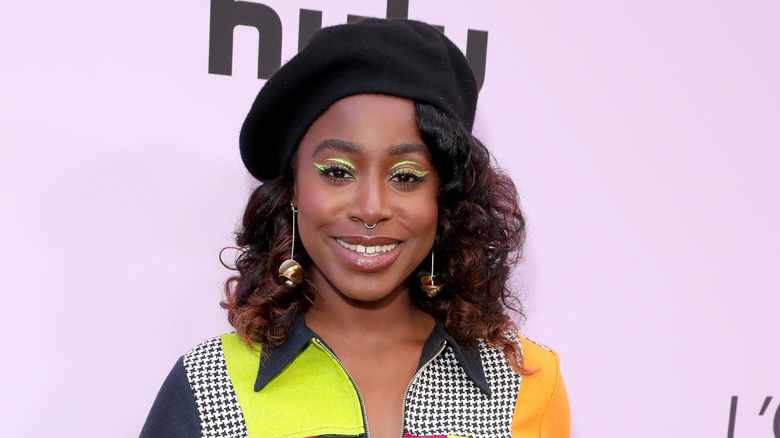 For any fledgling actor looking to make a mark onscreen in an American-made TV or movie, obtaining a SAG-AFTRA union card is both a rite of passage and a necessity. There are three common ways that an actor can join the union: being hired as a "principal performer in a SAG signatory show"; joining an affiliated union; or getting hired as an extra for a minimum of three days.
Kirby Howell-Baptiste, however, did not take one of these routes in getting her SAG-AFTRA card. "My SAG card I got from doing a web series!" she revealed in an interview with Backstage. "It was this weird, kind of terrible horror web series that I did an episode of. It felt like a backdoor … New Media came along, and a bunch of people made their own web series and got SAG [cards] that way. Very punk rock, very socialist, maybe even anarchist — cracking the system open."
In that interview, she also shared a big tip for aspiring actors auditioning for a show that "already exists" and can be viewed, advising that "it would behoove you to watch the show, because you get to know the tone, you get to know the writing, you get to know what comes before."
Kirby Howell-Baptiste's worst audition was super creepy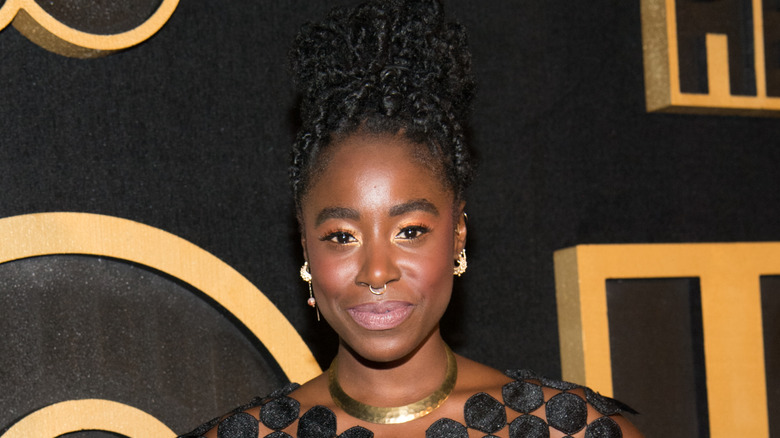 As actors have to go on a variety of auditions during their career, it's likely they'll have some experiences that are better than others. However, Kirby Howell-Baptiste offered up quite a doozy of one when asked by Backstage to single out her "worst audition horror story." Describing the experience as "a cautionary tale for actors," she recounted her audition for what she'd been informed was a music video. She described the location as having "no signage." Inside, she saw a man sitting down with a boom box. "He put it on and was like, 'Dance for me,'" she recalled. "I'm just standing there bobbing around, and he turned the music off and he said, 'You've got it, I'll give you a call.' Never heard from him. Clearly he was just some creep who was advertising on [a] website and trying to prey on young girls."
As Howell-Baptiste cautioned, "If something feels weird, looks weird, [and] sounds weird, it's probably weird, and there will be other opportunities that are also weird but feel very nice and comfortable and happy." Excellent advice, we have to say!
This is the stage performance that led Kirby Howell-Baptiste to drop out of drama school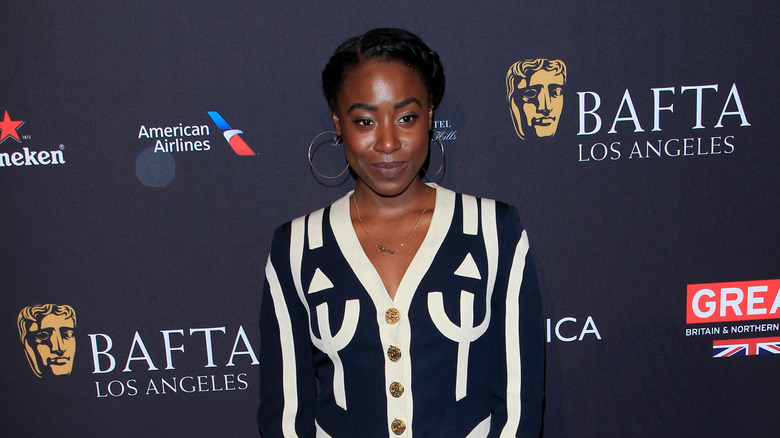 During an interview with Backstage, Kirby Howell-Baptiste highlighted a performance she'd seen onstage in London that, in her mind, redefined the parameters of what acting could be. "I saw Mark Rylance in the play 'Jerusalem' in London when I was in drama school briefly," she recalled.
As Howell-Baptiste admitted, at the time she "really hated being" in drama school. In fact, she highlighted the "rebellious" nature of Rylance's performance, and of the play itself, insisting that seeing that production actually proved to be "instrumental in me leaving drama school." Witnessing Rylance's performance, she explained, "felt like new technology; not knowing something is possible and seeing what the possibilities are, you can never go back."
That watershed moment may have led her to cut ties with her dramatic studies, but it propelled her further into her pursuit of acting as a whole. "I remember seeing that and being like, 'That's the possibility of acting. That's what acting can be.' That's what I want to chase: not what I've seen so far, but what acting can possibly be," she said.
This is why Cruella was the 'dream job' for Kirby Howell-Baptiste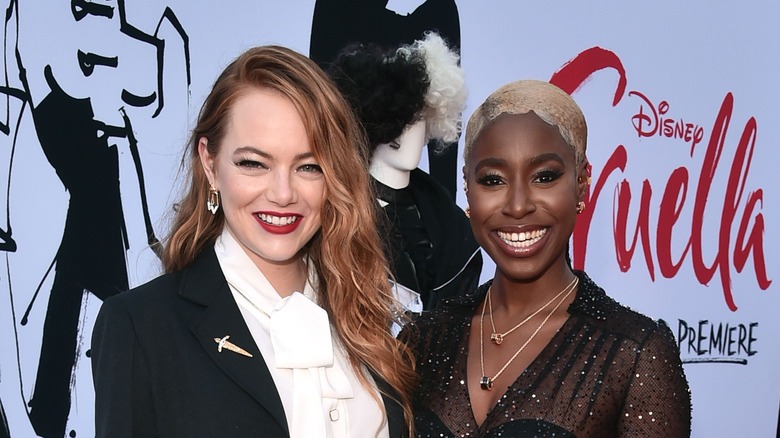 Kirby Howell-Baptiste landed one of her highest-profile roles when she was cast as newspaper reporter Anita Darling alongside Emma Stone in Disney's "Cruella." In an interview with Chicago's ABC 7, Howell-Baptiste gushed about the experience, declaring "Cruella" to be "a dream job and also to be surrounded by truly such beauty on the set, the way everything was designed and the clothing for me, it was like I walked around happy every single day."
As something of a fashionista in real life, Howell-Baptiste admitted she was thrilled with the wardrobe she got to wear for the role. "I definitely got to play dress-up. The outfits I wore I loved. Almost everything I wore was handmade — it was tailor-made for me, one of a kind," she added.
With "Cruella" telling the origin story of iconic Disney villain Cruella de Vil of "101 Dalmatians" fame, Howell-Baptiste has become part of Disney lore, something she expressed her excitement about. "To be able to be part of something that every generation can watch is amazing to me," she admitted.
Kirby Howell-Baptiste's entry into comedy 'happened by accident'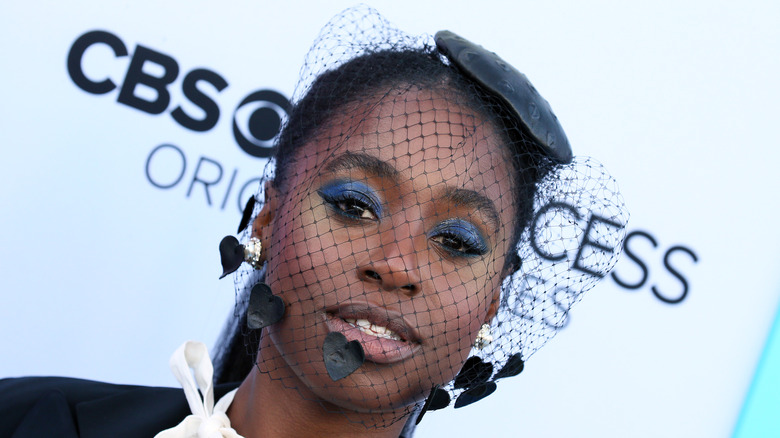 As fans of Kirby Howell-Baptiste well know, she's gravitated toward more comedic roles throughout her career and has displayed a true gift for comedy. However, comedy wasn't always her goal. "The comedy thing happened by accident," she told Gossamer. "I think I've always been quite comedic, but I went to drama school."
As she recounted, drama school was not a good fit for the ambitious young actor. "It felt like it all had to be very high-brow and serious. I lasted two semesters and then left and moved out here," she said of leaving the U.K. and heading for Los Angeles. When she first arrived, in fact, she "wasn't pursuing comedy at all; I was working under the table at a café because I didn't have all my paperwork yet." It was at this point that a friend recommended she check out Upright Citizens Brigade, the improv comedy troupe that boasts such stars as Amy Poelher, Donald Glover, Kate McKinnon, and Ellie Kemper among its ranks.
Taking classes there proved to be eye-opening for Howell-Baptiste, unleashing the comedy that had always been lurking beneath the surface of her serious acting ambitions. Through that experience, she told Gossamer, she came to appreciate that improv comedy is "truly the purest form of playing pretend as an adult you can get."
This is how joining a famed comedy troupe proved to be a game changer for Kirby Howell-Baptiste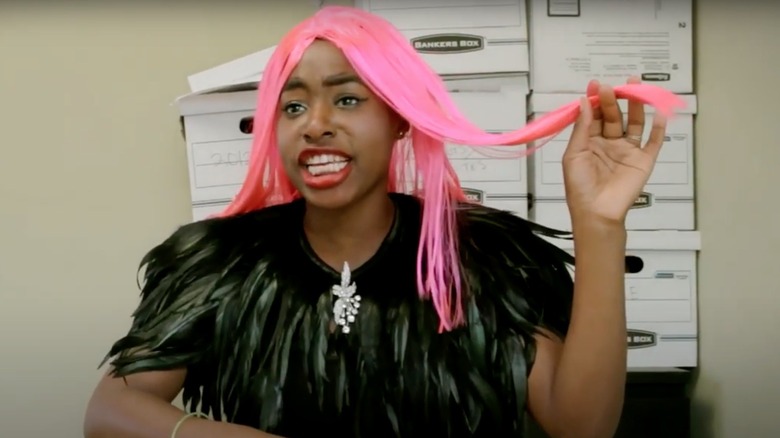 Hitching her wagon to Upright Citizens Brigade was a revelatory experience for Kirby Howell-Baptiste, allowing her to break free from the restrictions she'd unknowingly placed on herself due to her formal drama training. "Back in London, I did real capital-A acting classes, and what UCB allowed me to do was play again and shed [everything]," she explained in an interview with Elle Canada.
Joining the cast of UCB Theater, as it's commonly referred to, in 2012, Howell-Baptiste finally found the freedom that allowed her to break free from the boundaries of her dramatic training and embrace the freedom to fail, allowing her to hone in on her own distinctive acting style. This self-discovery, she added, was the key factor contributing to her future success. "I think the best thing I can contribute to any job is myself because it's the only thing that I can do better than anyone else," she declared. "My first [co-star] was really UCB in a way," she told Entertainment Weekly.
The actor credits the lessons she learned at UCB for leading her to such opportunities as appearing on "Comedy Bang! Bang!" and her biggest break up to that point: guest-starring alongside Don Cheadle and the very down-to-earth Kristen Bell on "House of Lies." It's a role that opened the door to bigger opportunities that Howell-Baptiste embraced with aplomb.
Kirby Howell-Baptiste has crossed paths with frequent co-star Kristen Bell a lot over the years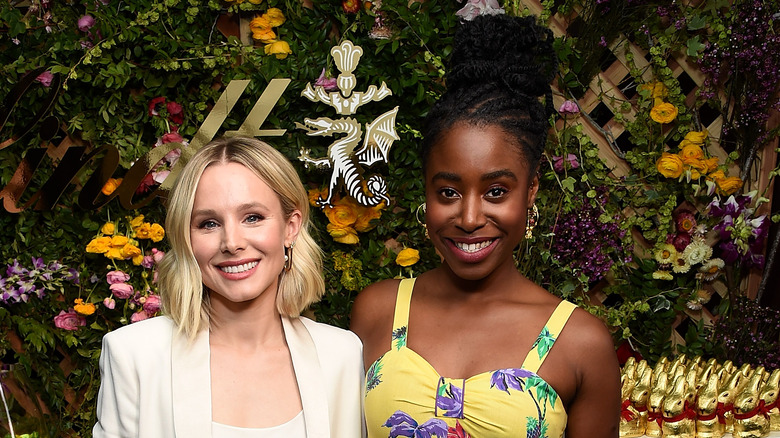 Kirby Howell-Baptiste appeared in just one episode of "House of Lies," but made quite an impression on series star Kristen Bell. In fact, Bell's recommendation led Howell-Baptiste to be cast in a recurring role in Bell's subsequent series "The Good Place." Landing "The Good Place" was "a pleasant surprise," as Howell-Baptiste told GQ, adding that, during her time on the show, she and Bell became close. When Bell signed on to a revival of her earlier series, "Veronica Mars," Howell-Baptiste recalled, Bell "could vouch for me." 
Bell shares the same sentiment. "I told them the truth, which is Kirby brings something special to every scene, that she would elevate our show tenfold, and that we'd be lucky to have her," Bell told Entertainment Weekly. She continued, calling Howell-Baptiste "the perfect scene partner" who is skilled at "listening and reacting in a natural way," adding, "She's incredibly prepared and professional, yet she doesn't take herself too seriously. She is genuinely fun to be around and a hell of an improviser."
That long association led Howell-Baptiste to share star billing with Bell on "Queenpins," a 2021 comedy feature about two suburban moms who run a counterfeit coupon scam. "You know, it's not us, it's the universe," said Howell-Baptiste on "Conan" of her frequent partnering with Bell. "We … play off each other really well," she told Entertainment Tonight of their on-screen pairing.
To her friends, Kirby Howell-Baptiste is a weed-loving 'shaman' of fun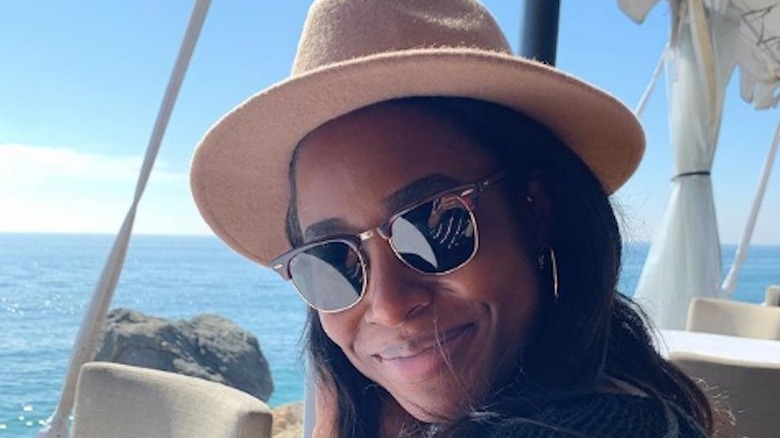 When she's not working, Kirby Howell-Baptiste has mastered the art of chilling out — and marijuana is typically a factor in that equation. "If I feel like I need a little break, I'll go to Joshua Tree or Palm Springs for a couple days and just chill in a hotel and swim and eat and smoke weed and sit in a hot tub," she told Gossamer.
She's also demonstrated an aptitude for providing enjoyment to her pals. "My friends once described me as a fun shaman, which I really love," she said, pointing to a very significant annual event she's come to celebrate with a fervor. "Every 4/20, I organize a day of fun," she said of the day that's come to be an annual celebration of weed. "Last year, we started at a dispensary, and then we went to [restaurant/arcade] Dave & Buster's, and then to Sherman Oaks Castle Park to play mini golf … The year before last, we all went to Sky Zone, which is this place that has wall-to-wall trampolines."
Howell-Baptiste's commitment to fun, she admitted, comes from a deprived childhood without a lot of money. "So now, as an adult," she said, "I'm like, 'Yeah, I can just spend money on doing fun stuff! I can take my friends bowling and then to the movies and then to jump on trampolines all in the same day!'"
Kirby Howell-Baptiste is not shy about sharing her opinions on Hollywood diversity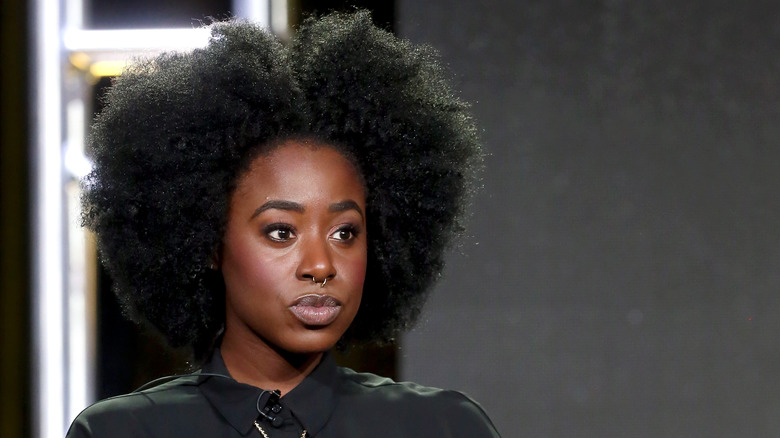 There's been much talk in recent years about increasing diversity in Hollywood, and, as a woman of color, Kirby Howell-Baptiste is keenly aware of the changes taking place in the film and television industry. "I'm seeing a lot more diversity at the actor level, but I'm not seeing the diversity I think it will take at the executive level, at the crew level and at the decision-making level," said Howell-Baptiste in an interview with Elle Canada, before sharing a real-world example. "It's all well and good to cast Black actors, but when I show up on-set and there's no one who can do my hair, then that feels like a tokenistic hire because you haven't really thought about me being intrinsically a part of this set," she explained. 
She's also gravitated toward female-led material primarily because she feels that roles for women are better in projects that are driven by women. "That doesn't mean it's exclusively by women," she told GQ. "But every project I've done that's been good and been recognized has had very diverse writer's rooms or creators that 10 years ago probably wouldn't have existed, and it shows in the material."
Source: Read Full Article