Marvel star Paul Bettany never expected WandaVision to happen. The actor — like many fans — thought that his time in the Marvel Cinematic Universe ended with Avengers: Infinity War.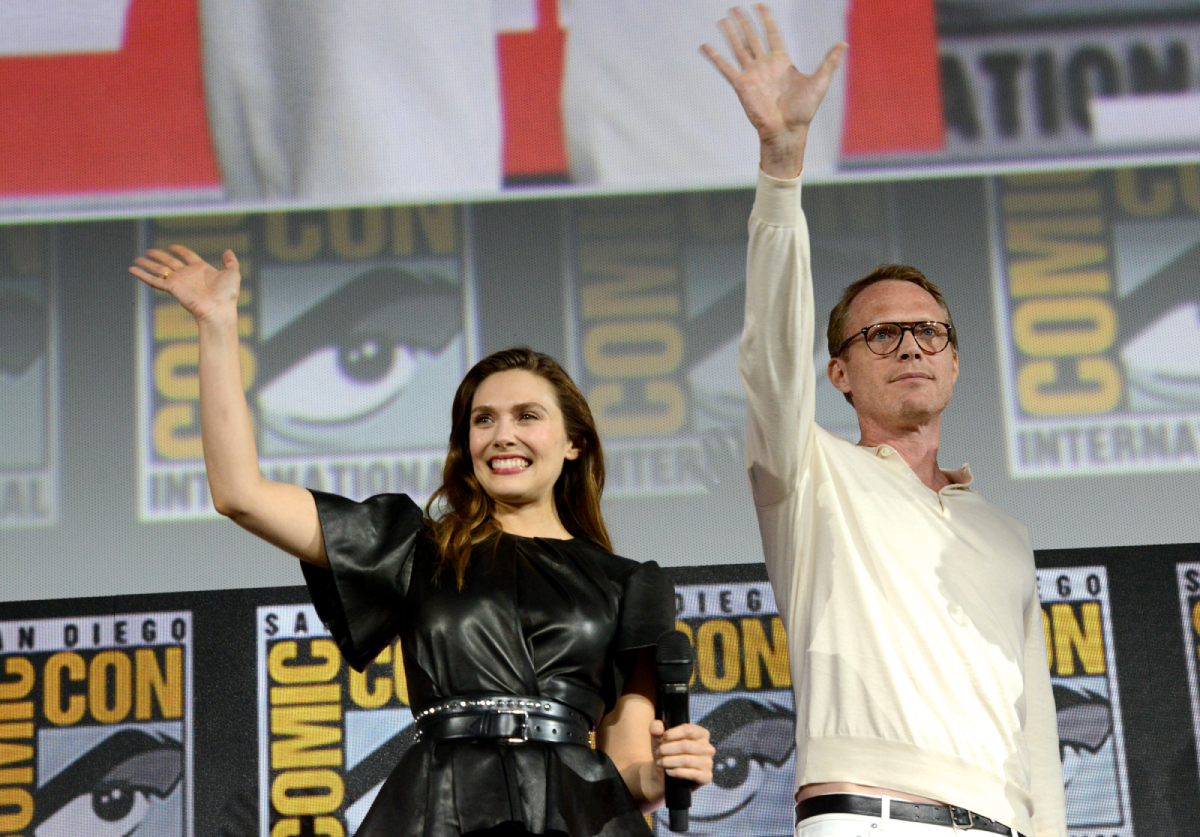 But at this point, it's clear that anything can happen in the MCU. And both Bettany and his bank manager were pleasantly surprised by this unexpected turn of events.
'WandaVision' is a love letter to 'the golden age of television'
WandaVision will be kicking off phase 4 of the MCU, and head writer Jac Schaeffer describes the new Disney+ series as "a love letter to the golden age of television."
"We're paying tribute and honoring all of these incredible shows and people who came before us, [but] we're also trying to blaze new territory," Schaeffer explained.
The new Marvel series on Disney+ have "really energized everyone creatively at the studio," boss Kevin Feige says. He explained that they were excited by "the notion that we could play in a new medium and throw the rules out the window in terms of structure and format."
According to Entertainment Weekly, it was Feige who came up with the idea for WandaVision. He is a self-professed sitcom nerd who enjoys starting his day by watching old TV shows because he "couldn't take the news anymore."
While watching classic sitcoms, Feige says he kept thinking about how influential these programs have been on society, and on him personally.
"Certainly I was using it as an escape from reality where things could be tied up in a nice bow in 30 minutes," Feige noted.
The new Disney+ series is a mash-up, just like Paul Bettany's Vision
Matt Shakman will direct WandaVision, who was a child actor on the Growing Pains spinoff Just the Ten of Us. Shakman, Schaeffer, and co-executive producer Mary Livanos worked together to nail down WandaVision's irreverent tone.
The new sitcom is a lot like one of its lead characters. Vision is a mash-up of Tony Stark's wisecracking computer J.A.R.V.I.S. and the homicidal robot Ultron. At the same time, WandaVision is a mix of "epic superhero action with small-town sitcom silliness."
Livanos says that it really does feel like we are all programmed to know, love, and understand suburban family sitcoms. Therefore, it's been exciting and fun to "mess with expectations."
The six-hour series with Bettany and Elizabeth Olsen (Wanda Maximoff/Scarlet Witch) takes inspiration from numerous classic sitcoms from the past 70 years. The show pays tribute to everything from campy mid-century black-and-white sitcoms to modern-day classics. They even filmed one episode in front of a live studio audience.
Paul Bettany was surprised to get a call about 'WandaVision'
As Marvel fans know, Vision died twice in Avengers: Infinity War. After Thanos took the Mind Stone from Vision's forehead, no one expected the character to show up again in the MCU. Not even Bettany himself. When Feige called him about doing WandaVision, Bettany thought the call was about "being brought in to be let go."
"I thought Kevin was doing the decent thing and bringing me in, and he and [executive producer] Louis [D'Esposito] were going to tell me, 'It's been a great ride, and it's over.' So it was a really pleasant surprise for me and my bank manager, too, obviously," Bettany revealed.
Despite being a professional actor for more than two decades, Bettany had never filmed a sitcom in front of a live audience. He and Olsen rehearsed their entrances and exits, but they were both terrified when it was time to shoot the live episode. Luckily, things went very well.
"We were all so high by the end of it, we wanted to keep on running the show," Bettany said. "Maybe take it out on tour or something. WandaVision on ice."
WandaVision premieres January 15 on Disney+.
Source: Read Full Article