In 2006, the year before Whoopi Goldberg became moderator of The View, Rosie O'Donnell was in charge of directing traffic at the show. Right around Christmas, Rosie and her co-hosts had a segment discussing the Miss U.S.A. pageant and its owner, Donald Trump.
To make a long story short, Rosie took the opportunity to unload on Trump. She mocked Trump's hair and speaking manner before sending him a personal message: "Sit and spin, my friend!" As you'd expect, Trump went berserk.
Eventually, that episode and its backlash led to a rift between Rosie and Barbara Walters — one that never healed. Five years later, Rosie was gone but Trump was still at it. This time, in an appearance on The View, Trump came on to push the lie about President Obama's birth certificate.
After several ladies objected, Whoopi took the floor and declared Trump's conspiracy theory utter nonsense. (She noted its racist subtext, too.) Yet Trump didn't go after Whoopi the way he did with Rosie. According to the author of Ladies Who Punch, Trump backed down for one clear reason.
Apparently, Whoopi's wide popularity intimidated Trump.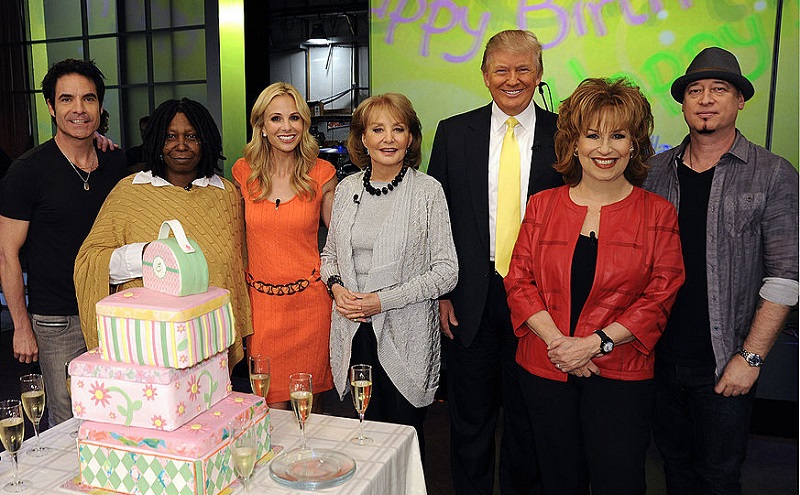 Watching the clip of Trump's visit, you see something the country has become familiar with: chaos. He makes a ludicrous point, the co-hosts scramble to refute it, and Trump repeats it with slightly different phrases to make it memorable for viewers.
After acknowledging their friendship, Whoopi says what was on the mind of many. "That's the biggest pile of dog mess I've heard in ages." She also pointed out the obvious: that it's a new twist on conspiracy theories made specifically for the first black president. "I'm sorry, that's BS," Whoopi added.
Obviously, Whoopi's approach differed greatly from Rosie's that day. She didn't insult Trump or poke at his insecurities (e.g., his appearance and wealth). But she did compare what Trump said to animal excrement — and the exchange got a lot of press.
But Trump didn't come gunning for Whoopi. To Ramin Setoodeh, it came down to what the public thought about Whoopi. "Trump knew she was too popular," he wrote in Ladies Who Punch. According to her favorability rating (her Q score, "Whoopi was more liked than Oprah."
Barbara wanted Whoopi to be moderator for this very reason.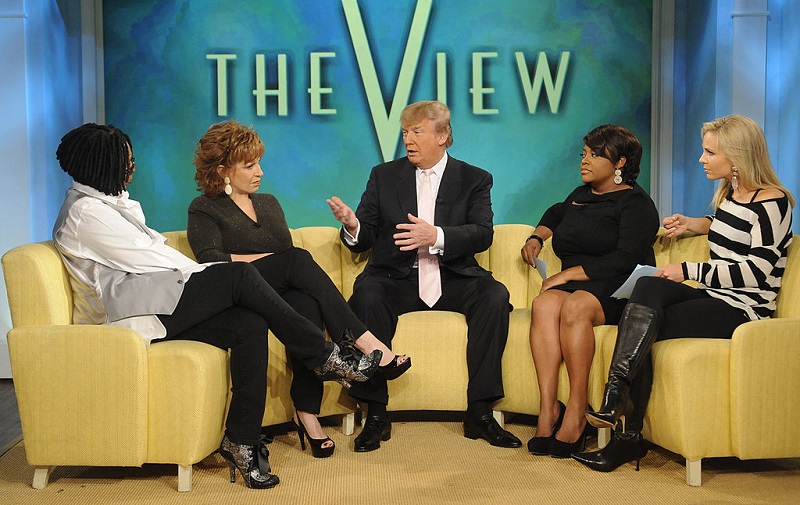 As Barbara and the View producers looked at their options to replace Rosie in 2007, the search narrowed to Whoopi and Gayle King. Whoopi had already connected with the audience on several occasions and was everyone's first pick. But Barbara auditioned King for the job, too.
When they looked at the popularity scores, Whoopi not only topped the score of King; she also proved more popular than Barbara and Joy. As the years passed and the ratings remained high, Barbara was very proud of her pick.
She wanted someone with real star-power, someone who could stand up to celebrities — even the bullies — and come out unscathed. Barbara got that and more with Whoopi. It wasn't an act, and the audience could see that every day. Not even Trump would mess with her.
Also see: The Broadway Show That Launched Whoopi Goldberg's Career
Source: Read Full Article