Save articles for later
Add articles to your saved list and come back to them any time.
He is the gangster rapper whose lyrics described guns, drugs and violence, but hip-hop superstar 50 Cent has become the latest US celebrity to embrace Welsh football.
The artist, whose real name is Curtis James Jackson III, has become the unlikely backer of the under-14 girls team at AFC Rumney in Cardiff.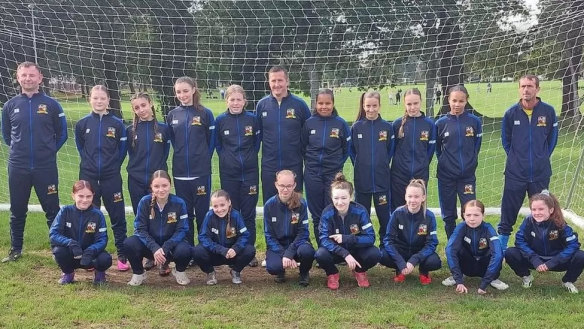 AFC Rumney under-15s teamCredit: Richie Brown
After a disappointing start to the season, the team is hoping for a change in fortunes this Sunday when they play for the first time in their new yellow kit emblazoned with the name of the rapper and G-Unit, his former hip-hop group.
His interest in supporting the club comes after Deadpool actor Ryan Reynolds who together with Rob McElhenney transformed Wrexham AFC and came about after one of the fathers on the team appealled for his support.
Richie BrownCredit: Richie Brown
The parent had been working on stage production on the rapper's tour and asked if he could help out. Rather than simply signing a cheque, 50 Cent, 48, is said to have taken an interest in the team and wanted to know more about how their season was progressing.
Richie Brown, 37, the team's coach, said the girls, who include his daughter Demi Brown and step-daughter, Sisi Calford-Addicott, 12, were "buzzing" over the rapper's endorsement.
"A parent of one of the girls was working with 50 Cent whilst he was on tour," he said. "We asked the question about possible sponsorship. Straight off, without hesitation, he agreed.
"At first it was an unbelievable feeling. We were a bit cheeky and asked for more and he also sponsored our tracksuits. I've been involved in female football for 10 years, it's really appreciated that it came around when we were in need of new stuff, we love his support for us."
The team, who play in the South Wales Women and Girls league Division A have recently been promoted from the B league, but have had a disappointing start to the season, losing their first three matches.
"We've had close games but a bad start, we are fingers crossed that will now change," Brown added. "This could give us our confidence back. We've sent a few photos over to him. 50 Cent actually showed an interest in who he was sponsoring, he wanted to know more about the team."
Rapper 50 Cent was asked to sponsor the side by someone working on his tour.Credit:
50 Cent shot to fame in 2003 with his hit In Da Club and the No.1 album Get Rich or Die Tryin' after being discovered by Eminem, the chart-topping rapper and songwriter. He also appeared in films and TV shows and was also part of the group G-Unit with longtime friends Tony Yayo and Lloyd Banks.
Brown said the children were excited by the endorsement of a celebrity but it was the parents who were starstruck by the team's new supporter.
"I'm sure more of them know who he is than the players because of their ages, but the buzz around the team and the whole club really is amazing and it's all because of him," the coach said.
In Wrexham, the team's fortunes have been transformed after it was bought by Reynolds and McElhenney in 2020. Earlier this year, the Welsh side won their first league title in 45 years, but Brown joked his team's celebrity sponsorship could mean the team had "a bit of competition now".
"The community in Wrexham is absolutely buzzing with what's happened there, hopefully we have the same positive effects down here."
50 Cent is currently on his Final Lap world tour which will come to the UK next month. The rapper is not scheduled to stop in Wales but Brown said he would be more than welcome to see the team in action.
"If he's ever around Cardiff he should come along," he added.
The Telegraph, London
Most Viewed in World
From our partners
Source: Read Full Article